'Again, it's for profit': Ontario's 'Your Health Act' will only make people sicker, says Sault Ste. Marie public health advocate
Posted: February 24, 2023
(February 23, 2023)
By: Jeffrey Ougler, The Sault Star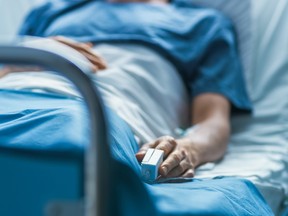 Marie DellaVedova, Sault Ste. Marie's Ontario Health Coalition representative, pooh-poohs Health Minister Sylvia Jones's assertion that the goal of "Your Health Act" is to reduce wait times for surgeries, diagnostic imaging and procedures. PHOTO BY ISTOCK /GETTY IMAGES
Shareholders – not those in serious need of surgery – would emerge the ultimate winners in legislation introduced this week by the Ontario government to widely expand the use of private clinics to deliver surgeries and diagnostic imaging, says a Sault Ste. Marie public health advocate.
Marie DellaVedova, Sault Ste. Marie's Ontario Health Coalition representative, pooh-poohs Health Minister Sylvia Jones's assertion that the goal of "Your Health Act" is to reduce wait times for surgeries, diagnostic imaging and procedures.

"Again, it's for profit," DellaVedova told the Sault Star in an interview.

The Ford government is pushing a health-care solution that benefits private companies at the expense of patients, she added.

"These institutions, these clinics, these long-term care homes, they don't exist primarily to provide health care," DellaVedova said. "They exist primarily to provide profit. It's right there in the word. Public means it's for us … it's for the public. For-profit means it's for the shareholders, for the business owners. It's for their profit. It doesn't exist for us."
The coalition cites "horrifying" conditions exposed in for-profit long-term care homes during the height of the pandemic. As of Nov. 29, 2021, 4,023 residents had died as a result of COVID-19 alone. Others died of malnutrition, dehydration, and neglect due to lack of care as COVID-19 rampaged through their long-term care (LTC) homes, the coalition said. Many of the COVID-19 related deaths in LTC homes were also associated with staff shortages, older designs of LTC homes that do not meet modern design standards and lack of personal protective equipment and infection control

"Tragically, many residents died alone," OHC said at the time. "The extraordinary and horrific death rates in for-profit LTC homes expose inadequacies of care and the differences between public and non-profit ownership and for-profit ownership."
The province said clinics will be integrated into the health-care system in a way that protects patients and furthers the requirements of the whole system, and patients will get the surgeries they need as quickly as possible without jumping any queues. The government is also promising stepped-up inspections of these facilities and measures to prevent the poaching of health-care staff from public facilities such as regular hospitals.

"My goodness, we had a lot of safeguards in place for for-profit long-term care, and look what happened," DellaVedova said. "For-profit long-term care does not serve their residents the way a public long-team care facility does."

"Your Health Act" language is consistent with the Canada Health Act, Jones said, adding "Ontarians will continue to pay with their OHIP card, never their credit card."
Opponents, however, contend moving health care into for-profit clinics increases the odds that patients will be upsold on other services, whether needed or not.

Critics also say Northern Ontario, already plagued by a dearth of doctors and other health-care professionals, would be hit especially hard by this bill, as privatization would only lure workers away to better-paying jobs with more reasonable hours.

Citing Ontario Medical Association numbers suggesting Northern Ontario is short of at least 300 doctors, the federal NDP contends the province's "pursuit of for-profit care" would poach workers out of the public system, making wait times even longer for patients. The NDP suggests hiring more doctors and nurses in Northern hospitals.
DellaVedova agrees, as nurses are leaving the profession "in droves."

"They're overworked, they're underpaid, and it's quite understandable that physically and emotionally they're not up to some of the challenges," she added. "It's been going on for too long."

Registered Nurses' Association of Ontario would agree. The association's Region 11 board representative Maxine Lesage told the Sault Star earlier a chief concern is nurses leaving traditional employment to go to private agencies or head into the U.S., prompted by frustrations over working conditions here. Canadian-trained nurses flocking to Florida and elsewhere south of the 49th parallel is nothing new, but pandemic challenges and other such burdens in the health system here have prompted more to relocate, Lesage said.
"They have moved on because they can't take it," she said, adding it's not unheard of in Ontario hospitals for a nurse working in a high-risk setting such as ICU, who would normally look after one or two patients, to see that number hiked to four or six patients.

Nurses leaving the profession altogether in "unprecedented" numbers has Lesage and her RNAO colleagues especially gobsmacked and grieved.

"When you hear that, your heart does break because it takes a certain kind of individual to be a nurse," she added. "You really have to care about individuals … it's an unselfish profession. It really is."

DellaVedova takes special exception to the fact the bill would also give health-care staff registered in other Canadian provinces and territories the right to begin working immediately in Ontario. National competition, which would invariably yield poaching health-care professionals from other provinces, flies in the face of the spirit of Canada's universal health-care model, she said.
"As soon as this for-profit element comes into it, that's what happens," she said. "Anything that was going on before is magnified. And I think that's a key point. We're stealing health care from one another. For-profit (health care) is just that … it's for profit. It exists to make money and it's making money off the public. So, our taxpayer money is going to subsidize private clinics, which are then going to rob us of public health care. It doesn't even make sense. It's not going to reduce wait times."

Overturning Bill 124, the 2019 law that capped wage increases for Ontario Public Service employees as well as broader public sector workers at one per cent per year, would help keep nurses and other health-care workers in the public sector, DellaVedova said.
"If we rescinded that legislation, wouldn't that go a long way in keeping our nurses in our hospitals?" she added.

DellaVedova said she saw first-hand last summer what health-care workers endure when she was admitted to Sault Area Hospital after breaking a wrist.

Treatment there was "phenomenal" and staff were "great."

One nurse even apologized to DellaVedova prior to surgery that she'd have to "wait a while."

"I was amazed at how well they were handling it,"  DellaVedova added. "But, unfortunately, it's not like that everywhere, and a lot of nurses are leaving."

– with files from Postmedia Network and The Canadian Press

jougler@postmedia.com

On Twitter: @JeffreyOugler