When Amy Ayers worked her first night shift at Tim Hortons last month, she experienced a sense of relief.

The former personal support worker had been having trouble sleeping. She was increasingly concerned that she wasn't able to give long-term care residents the care they deserved and that something could go seriously wrong because of staff shortages and lack of support.

In September, after five years working as a PSW in a long-term care home outside Ottawa, she quit and returned to the coffee chain where she had previously worked.

She earns a dollar an hour less than she did at the long-term care home, but has no regrets.

"I am basically getting paid the same as a PSW, give or take a dollar, I get benefits and there is more support."

The retail industry is also facing staff shortages, but they don't cause workers the same level of stress as the crisis-level shortages across the health system.

"I am OK if I didn't get someone's coffee quick enough. But going home daily knowing that I wasn't able to provide full care to a human being, I couldn't do that any more."

She said her concerns ranged from the constant need to cut corners to keep up, to more serious harm that could come from too few staff working some shifts and lack of support.

Ayers, 41, is just one of tens of thousands of personal support workers across the province, with more being trained, but her experience is far from unusual, say advocates and people connected to the health sector.

A provincial staffing study released in 2020, reported that 50 per cent of PSWs leave health care within five years and 43 per cent leave long-term care because of burnout from working short-staffed. Staff shortages are believed to have worsened during the pandemic.

"If you care about the residents you are looking after and are not able to deliver the care they need, that just sucks the soul out of you," said Grace Welch, co-chair of the Champlain Region Family Council Network and a member advisory group for Ontario's Long-Term Care Staffing Study.

Its recommendations included better compensation, more staff and better working conditions. The province has promised to institute an average of four hours of care per resident in long-term care, which will mean more staff, but it is rolling out the plan too slowly, say critics, and staff shortages mean it is difficult to even make modest improvements. The province is also supporting fast-track training programs for PSWs.

"My big concern is if they can't keep the people they are hiring and are losing people, the situation is going to get worse."

Welch and others say the province has to do more to retain PSWs — who are regarded as the backbone of the system — in long-term and elsewhere.

Last spring the Ontario government made a pandemic pay increase for PSWs permanent, increasing their pay by up to $3 an hour.

"We've seen over the last two years how they've stepped up to the plate. They've done an incredible job," Ontario Premier Doug Ford said at the time. "For years, they were ignored, they were underpaid, overworked."

But advocates and others say PSWs continue to be severely underpaid, overworked and often risk burnout and moral injury knowing they don't have time to provide good enough care to people who depend on them.

"The sector is really a women's wage ghetto, to a certain extent," said Michael Hurley, president of the Ontario Council of Hospital Unions. "Wages have been kept artificially low in the interest of being able to provide this service. We have reached the point where people are not willing or able to accept that any more."

He noted that PSWs working in hospitals have still not received the permanent increase promised by the province last spring.

"We have to keep the people we have and incentivize people to come back. The only way to do that is to pay them more."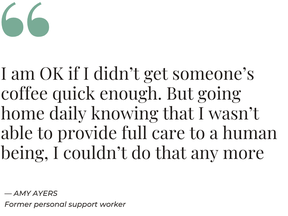 Natalie Mehra, head of the Ontario Health Coalition, said there is a consensus that in long-term care and elsewhere in the health system the staffing crisis has continued, despite provincial government claims that thousands of new workers have been hired.
And staffing shortages lead to more workers, like Ayers, walking away.
"Staffing shortages beget staffing shortages," she said. "The reality of PSWs is when they go to work they have to choose who is going to get care and who isn't. It is an impossible moral burden for them when they know they can't provide the care that people deserve and need and every day is awful."
Vivian Stamatopoulos, a long-term care advocate and associate teaching professor at Ontario Technical University, said PSWs continue to be underpaid, don't receive proper training or oversight and are at high risk from moral injury.
"They go in with the best of intentions, but the working conditions — where you are designed to fail — are so egregious that workers will leave for jobs at Tim Hortons or McDonald's that are paying almost the same."
Ayers, who was a union steward while a PSW, says she wanted to make a difference in the lives of the residents where she worked and to give other PSWs a voice.
"I feel like I did make a difference, but I wasn't always able to."
In the end, the stress and sleepless nights wore her down.