Canada might be doing better than U.S. in COVID-19 crisis but we shouldn't be satisfied
Posted: April 10, 2020
(April 9, 2020)
By: Alan Freeman, iPolitics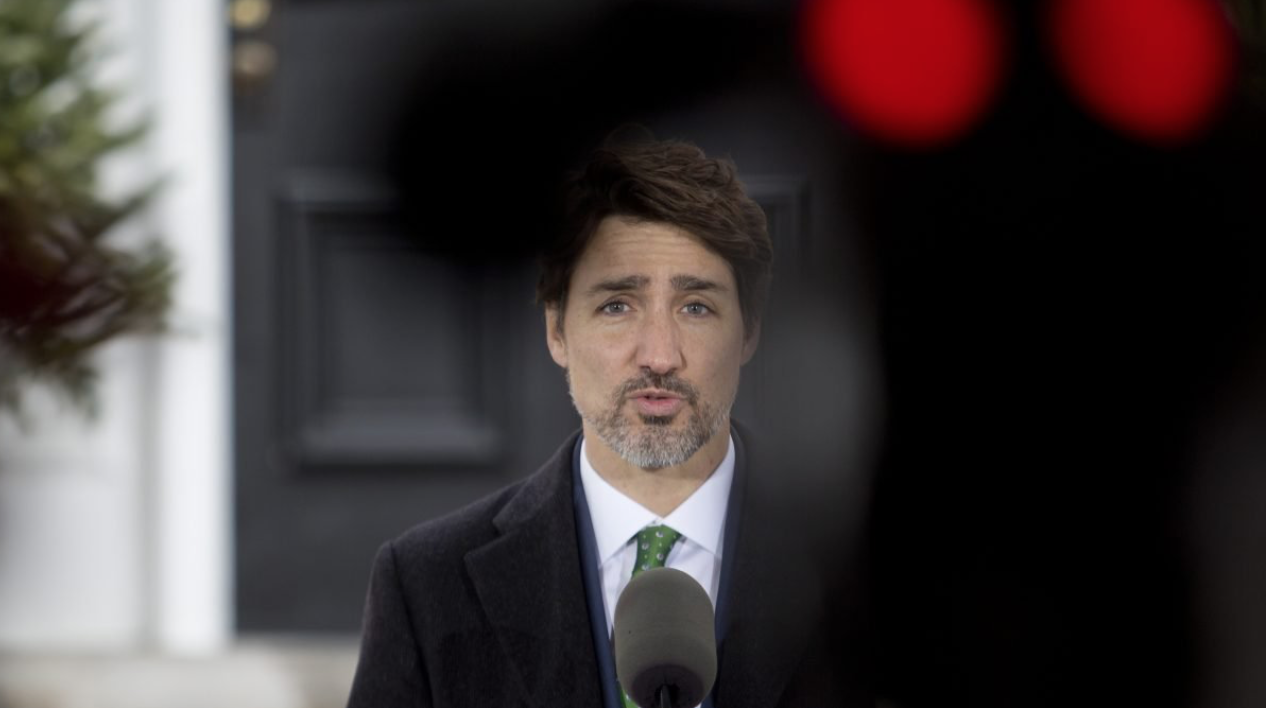 Prime Minister Justin Trudeau holds a press conference from Rideau Cottage in Ottawa on March 31, 2020 to speak about the government's measures to help Canadians with the effects of COVID-19 pandemic. Andrew Meade/iPolitics
It's time we stopped comparing ourselves to the U.S. Admittedly, it's hard to do, but if we keep on contrasting our outcomes in fighting the pandemic with the catastrophe unfolding south of the border, we'll end up having a misplaced sense of how well we're doing in this struggle.
And frankly, I don't think we're doing that well, particularly in Ontario and Quebec, where most Canadians live.
The U.S. is a deeply sick society led by a lunatic and with a political system that forces its citizens to literally risk their lives to exercise their democratic right to vote. Witness this week's Wisconsin primary.
The U.S. doesn't have a health system. It has a ramshackle, jerry-rigged contraption of hospitals, insurance firms and doctors, where the profit motive is often the primary motivator. It has tens of millions of poor, uninsured citizens with a long history of untreated diabetes, heart disease and obesity, many of them African American and Latino. The legacy of racism is a major contributor to the high death rate for these populations during the pandemic.
So it's not hard to look good in comparison. It's like gun control. America is awash in weapons and pays the price, school shooting after school shooting. Canada is sane in comparison but we're not as good as we could be. Why do we still permit assault-like weapons or private ownership of handguns, for example?
The performance of Canadian governments during the pandemic has been strong in some important ways. We don't have any crazy populists among our politicians, like Trump or Bolsonaro, undermining public health messaging and trying to shift blame. And considering the normal bickering between the provinces and Ottawa, our leaders have been well behaved.
Our social distancing measures were taken relatively early, though not early enough, but people have generally adhered to them well. The federal government has stepped up quickly with substantial, well-though-out measures to support workers and companies to weather the economic storm.
But there have been massive failures as well.
The federal government failed to listen to its own pandemic planners and has never properly built and managed a strategic stockpile of pandemic related materials, ranging from masks to ventilators. And when the pandemic hit, it was slow to close borders and monitor the global spread of the virus.
I can remember returning to Canada on March 2 from a trip to Mexico and only being asked whether I had visited Wuhan when I reached customs. Not a word about Italy, Korea or Iran, where the epidemic was raging. Not a word of warning about what to do if I showed symptoms. It was business as usual. It was frightening.
Then there's the disaster at long-term care homes. Both Quebec and Ontario clearly planned for only half the pandemic. They fixated on hospitals and primary care, clearing out institutions to avoid the overloading of the system with chronically ill patients on ventilators.
The hospital system is where all the resources went, all the personal protective equipment. All the planning. But they completely ignored where the most vulnerable populations lived: in long-term care homes. And we're reaping the results.
It's obscene to hear Quebec Premier François Legault, that master of reassurance, self-congratulation and delusion, talk about how pleased he is with the rate of hospitalizations in Quebec being lower than expected. It's easy to crow about that statistic when more than half the deaths are happening at hundreds of Quebec long-term care and retirement homes, where the elderly die alone, without ventilators, without their loved ones. They never come close to a hospital.
Legault is an example of a politician who reads too much of his own glowing press coverage. He obviously believes Quebec is doing well even when it is consistently the worst-performing of the provinces. Forget testing. Forget cases. Quebec accounts for 43 per cent of all COVID-19 deaths in Canada (as of April 9) while it has only 22.5 per cent of the population. That's shameful.
Stated another way, Quebec has recorded 216 deaths, 16 more than Ontario, even though Ontario has 6 million more people. And Legault has the nerve to compare his province with Portugal, of all places, never mentioning how terribly it's doing in comparison with its neighbour, let alone the best-performing province, British Columbia.
Not to say that Ontario has much to be proud of. Its nursing home situation is awful and its handling of testing has been nothing less than shambolic. Experts and commentators have all been pointing to the exemplary reaction of jurisdictions like South Korea, Hong Kong and Taiwan, noting that their preparation was informed by the experience of the SARS outbreak in 2003.
Where was the only substantial SARS outbreak in the world outside Asia? In Ontario. Instead of being better prepared, public health officials have acted like a Keystone Cops routine, running off in all directions, consistently doing less testing than the other provinces. We now find out that Ontario had to call in a management consultant in the middle of the pandemic to reorganize its network of testing labs. It's a bit like White Star Line calling in a naval architect after the Titanic hit the iceberg.
And where is the transparency we should expect of public health agencies? If supermarket chains like Metro and Sobeys can list their outlets that have been affected by COVID-19 outbreaks, why can't Ontario and Quebec have the decency to list the situation in each affected care home, detailing the number of cases among patients and staff, as well as the deaths? British Columbia does.
To fill the void in Ontario, the Ontario Health Coalition has been doing the job that the province is afraid of doing or too incompetent to undertake. Natalie Mehra, the coalition's executive director, has been forced to troll through the web sites of the 35 local public health units in the province, which all report differently. Some list individual homes hit by outbreaks, others not.
"It's devastating," she told me. She gave me the example of a care home in Oshawa, with 28 beds. On March 19, there were two positive cases confirmed. But testing was never carried out. By March 30, 27 of the 28 residents had the virus and six were dead.
Finally, on Thursday, Ontario's chief medical officer, the underwhelming Dr. David Williams, said that in future any new admission to long-term care will be tested as well as residents who have contact with a confirmed case. That's still less than what Premier Doug Ford has asked for. And in Quebec, they now plan to test all nursing home patients.
Perhaps we will escape the horrific pandemic outcomes in the U.S. But that's hardly avictory. For the hundreds who will die unnecessarily, it's unconscionable.
We live in a wealthy country, with generally honest politicians and the ability to run good institutions. We shouldn't target mediocrity or doing better than the failing society to the south. We should aim to be the best.
Click here for original article