Cannabis and opioid crisis on agenda as health ministers meet in Edmonton
Posted: October 23, 2017
(October 19, 2017)
By: Kim Trynacity, CBC News
Cannabis and opioid crisis on agenda as health ministers meet in Edmonton
Funding not on the table this time. Instead ministers to focus on issues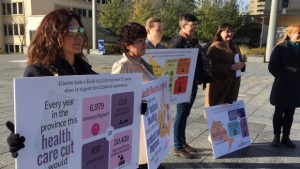 One day before Canada's ministers of health gather in Edmonton, the Canadian Health Coalition and Ontario Health Coalition released a report showing a $31 billion gap in funding from the federal government. (CBC)
For the first time in about two years, the contentious issue of federal funding isn't expected to dominate discussion when provincial and territorial health ministers meet in Edmonton starting Thursday.
Instead they will focus on issues like legal cannabis, pharmacare, mental health and the opioid crisis.
"We're moving on from the health accord negotiations which dominated discussions over the last two years, to focusing more on some of the patient outcomes we're expecting with those investments,"  said Alberta Health Minister Sarah Hoffman.
Hoffman is chairing the meeting. Ginette Petitpas Taylor, Canada's new health minister, will join her provincial and territorial counterparts on Friday.
Alberta signed a bilateral funding agreement with the federal government in March 2017.
Ottawa agreed to give Alberta $1.3 billion over 10 years: $703.2 million for home care, including money for infrastructure, and $586 million for mental health initiatives.
The federal government also gave Alberta $6 million in emergency funds to help deal with the opioid crisis. That is in addition to money from a five-year, $65-million national initiative announced late last year.
But a report released Wednesday by the Canadian Health Coalition and Ontario Health Coalition questions whether the deals Ottawa negotiated with each province is good for Canadians.
Alberta Health Minister Sarah Hoffman says she is eager to discuss common problems, and to get an update on cannabis legislation from the federal health minister (CBC)
The report, titled Health Accord Break Down: Costs and Consequences of the Failed 2016/17 Negotiations, concludes that over the next decade, the provinces and will end up losing $31 billion to fund public health care.
Alberta faces a $3.43 billion funding gap, leaving it one of the worst hit provinces.
"The targeted funds are public relations," said Natalie Mehra, report co-author and executive director of the Ontario Health Coalition. "It's not any kind of any substantive policy."
Her co-author Adrienne Silnicki, the national director, policy and advocacy, for the Canadian Health Coalition, said the $31 billion is the amount required "to keep the current basket of services for the next ten years."
Previous Canada-wide health accords, said Silnicki, have resulted in improvements to public health. She cautions the current bilateral agreements between the provinces, territories and Ottawa, have erased that progress.
"That's been totally done away with," said Silnicki who points to a lapse in national standards for health care delivery across Canada.
Mehra says the bilateral agreements have failed to address the growing problem with overcrowding in hospitals, and lack of planning and space for the needs of an aging population.
New health care accord
The Canadian Health Coalition is urging the provincial health ministers to pressure the federal government into creating a new national health care accord.
"It's stark, but it is true," said Mehra,
"It's not okay to say that the health accord is done. We need to take this fractious issue off the table," she added.
The report used previous costs analysis done by the Parliamentary Budget Office, the Conference Board of Canada, and the financial Accountability Office of Ontario to determine future funding needs.
Provincial and territorial ministers of health will hold closed door meetings in Edmonton Thursday before being joined by Petitpas Taylor on Friday.
She was appointed federal health minister in August.