Cathy Majtenyi: Sad record in helping seniors is exposed
Posted: May 3, 2020
(May 2, 2020)
By: Cathy Majtenyi, The Catholic Register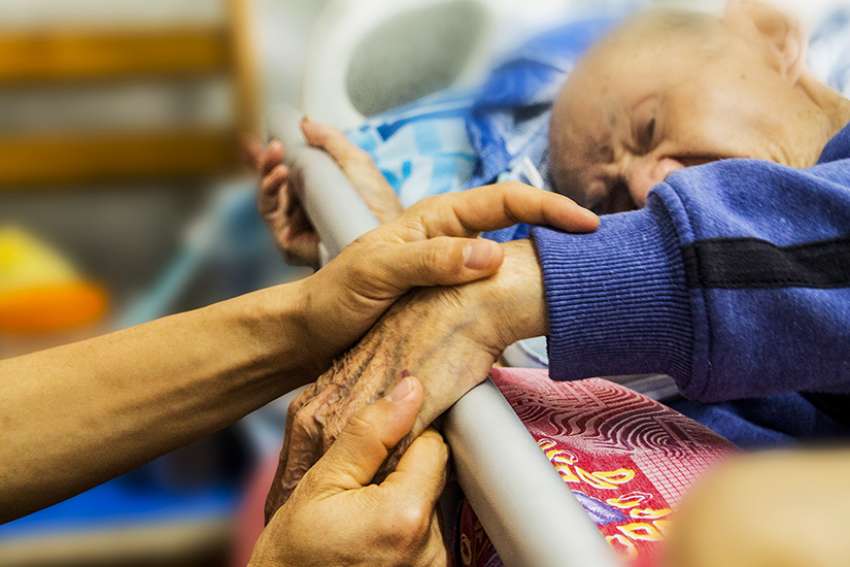 It's a pandemic within a pandemic — and a damning indictment of how we've been failing to care for our most vulnerable. People living in seniors' homes across Canada are being hit disproportionately hard by COVID-19.
The numbers are grim. On April 17, the Canadian Press reported COVID-19 outbreaks "at 106 long-term care homes in Ontario, with at least 1,229 residents and 621 staff members infected, and at least 216 resident deaths." Ontario's total on that day was 9,525 cases and 478 deaths overall.
This reflects a country-wide trend that almost half of all COVID-19-related deaths can be attributed to outbreaks in seniors' homes, according to Canada's chief public health officer Dr. Theresa Tam. Why is that so?
The superficial answer is obvious. Physical distancing is almost impossible in an environment where staff need to get close to residents to provide services such as feeding and bathing. Bedrooms are sometimes shared and, by their very structural design, seniors' homes contain a number of common areas.
We know that older adults are more susceptible to contracting, and dying from, COVID-19. Many residents also have underlying conditions — diabetes, heart disease, stroke — which adds to their risk of dying from COVID-19.
Scratch the surface and a more troubling answer emerges. Staffing levels in many long-term care facilities are woefully inadequate to the point where residents can wait for hours or even days for such basic care as a diaper change. The relatively few staff are putting in overtime hours under intense pressure and danger.
A sizable number of facilities lack personal protective equipment (PPE) and training for staff. Wages are low, job security is precarious and getting full-time employment is sometimes difficult, causing some staff to work at several homes just to make ends meet.
These systemic problems did not arise with COVID-19. They've been there all along, if we had cared to look. Take the case of Ontario:
Eighty per cent of Ontario's long-term care homes are having difficulty filling shifts, with 50 per cent of long-term care nurses being close to retirement age (the Ontario Long Term Care Association 2020 Budget submission).
Most homes are operating with less than the optimal number of personal support workers (PSWs), from five to 50 PSWs short depending on the home's size; wages are too low for the heavy work burden (Ontario Health Coalition, December 2019 report).
Ministry of Health-funded staffing levels have actually declined since 2006; meanwhile, 84 per cent of those currently admitted to long-term care homes are assessed as having high and very high needs (same as above).
In 2019, only nine out of 626 long-term care homes in Ontario actually received resident quality inspections contrary to the Ontario government's claim that every home is examined annually for compliance with safety standards and regulations (CBC News investigation).
The Ontario government cut and cancelled two long-term care home funds that amount to a $34-million cut to long-term care home programs, services, equipment and facility maintenance. (Ontario Health Coalition, Update, August 2019)
Says the Ontario Health Coalition: "Not enough care means residents are fed too quickly, cannot get enough food down, and lose weight, becoming frail and risking dehydration or starvation. It means no time for bathing or repositioning to prevent bed sores. It means no friendly visits or socialization for lonely or depressed residents."
Our elderly in long-term care have been suffering for a long time. For the moment, they are no longer out of sight and out of mind; the COVID-19 crisis has brought their suffering to the headlines.
To their credit, the federal and provincial governments in mid-April started stepping up to the plate to provide emergency funding for protective equipment, wage top-ups and other measures.
But even this support seems too little too late when compared to governments' intense flurry of activity last month that focused on building capacity and resources in hospital emergency departments.
If we knew that the elderly are vulnerable to death by COVID-19, why wasn't there an equivalent amount of emergency planning in seniors' homes right from the start? It was as if protecting our elder population in seniors' homes was an afterthought.
This is a wake-up call to our society that life is precious and needs to be protected in all of its stages. Failing to consistently care for our elderly and other vulnerable people in society leads us down a dark road that erodes human rights and dignity for us all.