Controversial LTC bill causing tug of war: condemned by advocates but applauded by hospitals
Posted: September 16, 2022
(September 15, 2022)
By: Elizabeth Payne, Ottawa Citizen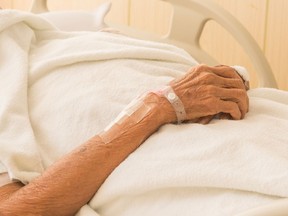 FILE: Patient in a hospital Photo by Srisakorn /GETTY IMAGES/ISTOCKPHOTO
While The Ottawa Hospital's President and CEO Cameron Love and other health-care leaders are throwing their support behind Bill 7, opposition to the controversial provincial legislation is growing.
Under the legislation, southern Ontario hospital patients awaiting spots in long-term care can be sent up to 70 kilometres away — and those in northern Ontario can be sent 150 kilometres away — to a long-term care home not of their choice starting next week. Those who refuse will be charged $400 per day for use of the hospital bed beginning in November.
As more details about the legislation, called the More Beds, Better Care Act, emerge, advocates, critics and families of patients say they are increasingly concerned about its implications.
But hospital officials say it will help free up desperately needed space at a difficult time for the health-care system and will do so in a safe way. Among other issues, emergency room wait times have been steadily increasing since before even the start of what is typically the busiest season. Ottawa hospitals have among some of the longest waits in the province.
Love with The Ottawa Hospital said the provincial legislation will allow the hospital to avoid cancelling surgeries and to weather the coming flu and viral illness season without dozens of patients waiting in the emergency department for beds.
"If it wasn't for Bill 7, the risk of us cancelling more surgeries and having situations where we have 40 or 50 admitted patients in emergency without a bed — that risk is significantly higher," he said.
As the region's largest provider and trauma centre, "we have to find every mechanism not to be in a situation" in which there are not enough beds for surgical patients and ambulances are diverted from emergency. Love said Bill 7 provides that mechanism.
But Opposition politicians and health care advocates say the bill is more problematic and potentially dangerous as more details are being released.
On Wednesday, the day the Ontario Legislature was adjourned for about six weeks, Health Minister Sylvia Jones and Long-Term Care Minister Paul Calandra released details including the distance patients can be sent to be placed in long-term care and the daily amount they will be charged if they refuse to go.
At a press conference Thursday, Jane Meadus, a lawyer with the Advocacy Centre for the Elderly, said the bill goes further than its original intention appeared. "They expanded what they are going to do far beyond what was in the bill. I think this is going to end up with people dying in the community or in long-term care homes that they don't want to be in."
Meadus argued the bill is going to be used to push patients to move to long-term care homes that are not meeting quality standards and that homes with staff shortages will be pressured to accept patients.
"Long-term care homes are going to be pressured to take people they cannot provide care for."
She also said she fears that under the bill, people will be forced into the community without being allowed to apply for long-term care based on an assessment that home care is more suitable.
"This is really problematic on so many levels."
Natalie Mehra, who heads the Ontario Health Coalition, said the health network is already hearing from families who are terrified their loved ones will be sent far away and be isolated from family, or to homes "that they know are terrible and they don't want to go to."
Opposition politicians say the bill places the burden of the underfunded health-care system on the backs of the elderly and their families.
Guidelines around the bill say language and culture should be a priority when placing patients in long-term care, but they note that related beds often have the longest wait lists.
Meadus argued the bill does "what hospitals have been trying to do for a long time — trying to block people from applying for long-term care, trying to force people to go home or to retirement homes and trying to force family members to care for them."
She and Mehra said the bill does nothing to address the systemic problems with the health system — that it is underfunded and there are not enough beds either in hospitals or long-term care. Home care is also woefully underfunded and understaffed, they said.
"People will end up in hospital sicker than they were — if they survive," said Meadus.
The Ottawa Hospital has around 250 ALC (alternate level of care) patients on any given day, said Love. An average of 50 to 80 of those patients are waiting for long-term care beds.
Love said the hospital's goal is to "support patients and families."
It will work with patients and their families to make sure patients from Deep River, just under 200 kilometres northwest of the city, for example, are not sent to a long-term care home east of Ottawa. He said the most likely scenario is that patients and families from Ottawa will be asked to consider homes slightly outside the centre of the city, in some cases.
He said the bill "will give us the capacity to decrease wait times in emergency and get more surgery done."