Evening Brief: Watson says Ford agreed long-term care funding shouldn't be cut
Posted: October 8, 2019
(August 20, 2019)
By: iPolitics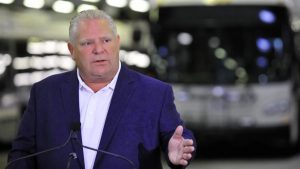 Premier Doug Ford speaks at the Grand River Transit bus garage in Kitchener in August 2019. Brent Davis/The Record
Good evening. 
The Lead
A private meeting between Ontario Premier Doug Ford and Ottawa Mayor Jim Watson resulted in the premier agreeing that cuts should not be made to long-term care homes, Watson revealed to iPolitics in an interview. 
Watson said the city was set to lose about $800,00 in funding from the province for four long-term care homes it runs. 
The Ontario Health Coalition had raised alarms about cuts to long-term care last month, saying funding did not increase at the rate of inflation and that special funds affecting municipally-owned long-term care homes especially had been cut. 
"I'm hoping his comments — that he didn't think they should be cutting long-term care — follow through with a formal statement," Watson said.
The Ford-Watson meeting was one of hundreds of liaisons between municipal and provincial representatives taking place this week at the Association of Municipalities of Ontario conference in Ottawa. Victoria Gibson reports.
In Canada
Meanwhile, the federal Conservatives will make EI maternity and parental benefits tax-free if they form government, leader Andrew Scheer pledged. He said at an event in Toronto that the proposed policy would provide Canadians a non-refundable tax credit of 15 per cent on the value of benefits they receive.
The Conservatives say it would save $4,000 for a Canadian accessing EI parental and maternity benefits whose regular salary is $50,000. Scheer originally proposed making these benefits tax-free during the 2017 Conservative leadership race, estimating the policy would cost Ottawa at least $500-$600 million annually. Jolson Lim reports.
In an issue that could become potent ahead of the fall vote, the man accused of travelling to Syria to fight for ISIS dubbed "Jihadi Jack" told a British news outlet that he hopes to return to Canada after Britain stripped him of his citizenship.
Jack Letts, who is currently in a Syrian jail, told U.K.-based ITV News that while he was disappointed the U.K. wouldn't allow the former-dual citizen to return, he has spent a lot of time in Canada. 
The Liberal government has not said whether it would allow Letts to return to Canada, while Scheer said he should remain in jail and would not attempt to bring him back if the Conservatives form government. Letts' father told the Globe and Mail today he hopes Canada can help secure his release. 
As well, new government-commissioned research shows the anti-alcohol warning message Ottawa wants to put on edible cannabis products was well understood by focus groups who were asked to weigh in on Health Canada's proposals for product packaging.
While the messages were generally comprehensible, an image it had shown a focus group of a beer and wine glass was widely misinterpreted as an encouragement to participants to drink, "and party." Charlie Pinkerton reports. 
And in case you missed it, Mainstreet Research's latest poll for iPolitics suggest Canadians want the federal government to implement a national pharmacare program and to take action on reconciliation with Indigenous peoples. 
Most respondents in the 2,463-person phone survey also want Ottawa to do more about racist and xenophobic statements and language. Marco Vigliotti has the full breakdown.
The Sprout: Worries about dairy farmers' compensation
The Drilldown: U.S. warns Greece against hosting Iranian ship released from Gibraltar 
Internationally
Reuters reports that Italy's prime minister Giuseppe Conte announced his resignation on Tuesday, accusing coalition partner Matteo Salvini of sinking the ruling alliance and endangering political and economic stability for his own gain. 
Salvini leads the right-wing populist League party, which formed a governing coalition with the anti-establishment Five Star Movement in 2018, with Conte chosen as prime minister. Salvini, whose party has seen a recent spike in popularity, had tabled a no-confidence motion against Conte and said he could no longer work with Five Star. 
Also, the New York Times reports that the White House has mounted an effort to prevent any more companies from supporting a pact between California and four automakers to oppose the Trump administration's automotive emissions rollbacks. In June, Canada and California signed an agreement to further reduce vehicle emissions.
Meanwhile, the Associated Press reports that Hong Kong's leader Carrie Lam pledged Tuesday to open up dialogue with city residents in an effort to narrow differences but offered no concessions to the protest moment. A key protest organizer said Lam's promise to hold "open and direct" dialogue with the city's people was merely a "communication platform."
As well, BBC News reports that Syrian rebels have withdrawn from a key town in the last rebel-held province of Idlib, where three million civilians are using as a refuge. Government forces, backed by the Russian military, were closing in on the town in recent weeks. 
Lastly, the broadcaster reports that Pakistan plans to take the Kashmir dispute to the International Court of Justice, a move that comes after India revoked special autonomous status and instituted a communications lockdown for the part of the disputed territory it administers. Both countries have claimed Kashmir as theirs.
The Kicker
A Republican politician in Tennessee said he remembers being in his mother's womb during a debate on a state bill that would restrict abortions.
According to the local NBC News outlet, Hal Rounds said he had a "conceptual memory of being born."
"In the womb there is a sensation of compression and advancement against one side and another and sudden urgent pressure to burst out," he said.
Believable? Probably not.
Until tomorrow.