Families and groups call on Ford to act on Ontario's long-term care COVID-19 crisis
Posted: January 26, 2021
(January 25, 2021)
By: CanIndia News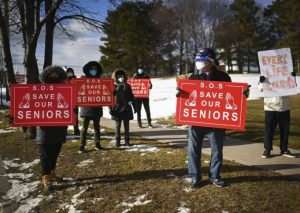 The Ontario Health Coalition (OHC) says that 100 groups and families are speaking with one voice when they took issue with the Premier and Minister of Long-Term Care's statements that "Everything is hunky dory here" (Premier Ford) and repeatedly, there are no long-term care homes with a staffing crisis (Minister Merrilee Fullerton).
The Coalition is calling for:
Immediate staff recruitment drive like the Quebec government did in June to recruit the thousands of staff needed, with fast-track intensive paid training, improved wages & working conditions to retain staff.
Military support for the long-term care homes in crisis where local hospital teams are not available to come in.
Provincial government action to enforce safety and infection control practices in long-term care homes. This means inspections, intervention at a low threshold of COVID cases, real enforcement. No operators have been fined or lost licenses, in fact the province made a priority of passing legislation to indemnify them from liability for negligence.
OHC executive director, Natalie Mehra, laid out the numbers according to the Coalition's most recent tracking report (up to January 19): Of the 257 long-term care homes currently in outbreak, 99 LTC homes are in large outbreak (>10 residents and staff with COVID-19). There are a total of 626 long-term care homes in Ontario.
Of these:
53 long-term care homes have more than 50 residents and staff infected in the current outbreak
29 have more than 100 residents and staff infected
15 have more than 150 residents and staff infected
7 have more than 200 residents and staff infected
3 have more than 250 residents and staff infected
1 has more than 300 residents and staff infected
There are 75 long-term care homes in the second wave that have had more than 1 in every 4 residents infected. Of these, there are approximately 17 long-term care homes in which we estimate that almost all residents have become infected, an OHC statement said.
Currently, the number of residents and staff who contract COVID-19 in Ontario's long-term care homes in Wave II is escalating by 1,260 – >1,500 each week, the fastest rate of escalation to date. Ontario has surpassed the total number of residents and staff infected in Wave I by 2,607 cases and rising.
The death rates, which follow infections by several weeks have escalated dramatically over this second wave. In the most recent week, the total number of deaths was 171. (That does not include the new 46 deaths in the last day.)
New tracking reports giving a full province-wide list of the large outbreaks and LTC homes with a significant proportion of their residents with COVID-19 were released Friday by the Health Coalition.
"At this point, long-term care residents in Ontario are dying as a result of COVID-19 at the rate of one person per hour," said Mehra. "There are thousands of staff who are off sick, some of whom take months to recover, some of whom never return. The staffing and care crisis is profound. To Premier Ford, if this does not constitute a crisis, what does?"
Click here for original article