Ford government's long-term care strategy "inadequate": Ontario Health Coalition
Posted: April 18, 2020
(April 17, 2020)
By: Clarrie Feinstein, Daily Hive Toronto
"The Ford government's Action Plan to address COVID-19 outbreaks in Ontario's long-term care homes is still less than what is needed to stop the spread of the virus and stabilize the workforce," the coalition said in a statement.
To date, there are 104 known outbreaks in long-term care homes across the province. There have been 933 reported cased among residents and 530 among staff, with 162 reported deaths for residents.
On April 9, a Brampton healthcare worker died from the virus, and on April 16, another healthcare worker from Sienna Senior Living in Scarborough, passed away.
Long-term care homes are seen as the frontlines for the pandemic, making the provincial government ramp up efforts for these vulnerable demographics.
But the OHC doesn't think the measures go far enough.
The OHC is calling on the government for enhanced measures
They are asking for all staff, volunteers, third-party caregivers, management, and residents going into or living in long-term care homes to be tested for the virus.
But according to the coalition, "families are telling us testing is not happening" and that the government is not making testing mandatory in these priority areas.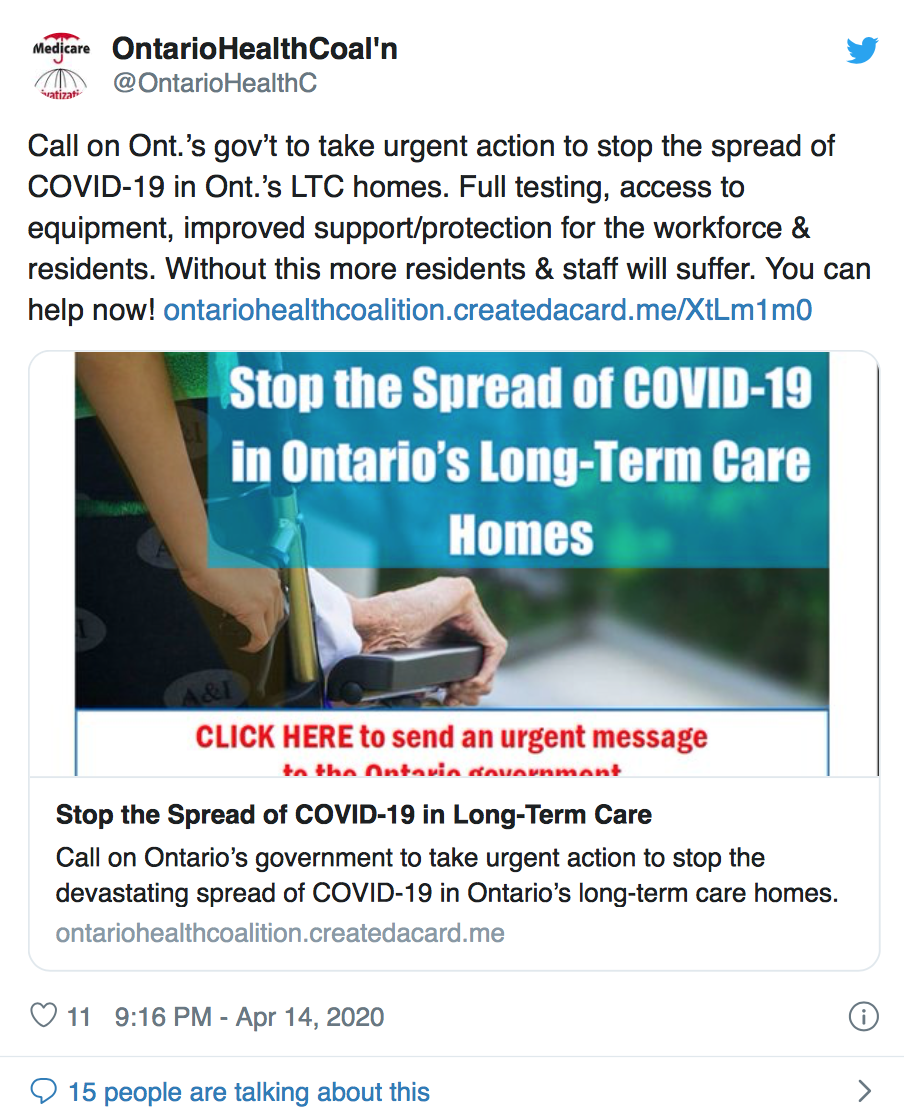 The OHC also wants to ensure that staff who test positive for the virus are not required to work and should be under quarantine with support.
According to the coalition, the opposite has been occurring, as staff are required to work even though they have tested positive for the coronavirus and are "afraid of passing on the virus to other staff and residents."
There is also a demand for testing of new admissions to be done prior to moving into a long-term care home.
"No people who test positive for COVID-19 should be admitted to a long-term care home. Hospital patients who test positive for COVID-19 should not be allowed to be transferred into long-term care homes or other residential care facilities," the coalition said.
Currently, the OHC says that new admissions into long-term care are tested within 14 days of admission and hospital patients transferred into long-term care are required to be tested under the new guideline, but transfers of coronavirus positive patients are expressly allowed.
The coalition is also asking the provincial government to analyze the working conditions of the long-term care workforce.
According to the OEC, the shortage of Personal Support Workers has been a problem for two years which "is a result of poor pay and conditions that have fallen far behind, as well as too-high acuity among residents for the care levels provided."
"Improved wages and benefits, full-time employment, a regulated care standard that would provide a minimum of four-hours of staffing time to provide daily care for residents must be implemented," the coalition said.
What the province has implemented so far
On Tuesday, Ford announced a new emergency order mandating that healthcare employees at long-term care homes work at only one facility in order to prevent the spread of the virus.
The premier said that hospitals have not seen the surge of patients that was expected, therefore allowing resources from hospitals to be reallocated to senior care facilities.
Around $240 million will be reallocated to support long-term care homes that are experiencing increased outbreaks of the virus across Ontario.
The additional funding will increase staffing and cover the cost of adding hours for part-time staff. It will also go towards improved testing, new infection control measures, and providing more infection specialists for all homes.
On Wednesday, the province launched a COVID-19 Action Plan for Long-Term Care Homes to improve screening, testing, and surveillance with a focus on homes that have coronavirus outbreaks.
Specifically, the action plan will ensure that staff will have the tools they need to actively prevent and control the spread of the virus. More staff will be hired, and there will be 24-hour screenings for staff and residents, as well as enhanced cleaning measures. Long-term care homes that do not yet have outbreaks will be working on preventative plans.
In addition, priority distribution of PPE will be given to long-term care homes within 24 hours.
Ford also said that COVID-19 swab teams will be drawn from hospitals and public healthcare units to tackle the outbreaks occurring across the province.
Dr. Merrilee Fullerton, Minister of Long-Term Care said at the time, symptomatic residents and staff, as well as asymptomatic contacts of confirmed cases, will be tested. Asymptomatic residents in select long-term care homes will also be tested.
"We are increasingly frustrated with the disconnect between the statements of the premier and what is actually being put into the regulations, directives and guidance issued by his own government," Natalie Mehra, executive director of EOC, said in a statement.
"More importantly, the measures that are being taken are too little and too slow, and the Ontario government appears to be relying too much upon isolation to contain the spread of the virus, which is not practically possible in many long-term care homes."
A response from the province
Hayley Chazan, Senior Manager and Media Relation for the Minister of Health told Daily Hive that healthcare workers who previously tested positive but were never symptomatic at the time of test can return to work under certain conditions.
These conditions include the test-based approach, meaning they receive two consecutive negative specimens at least 24 hours apart or the non test-based approach — returning to work 14 days after testing positive.
"In exceptional circumstances where additional staff are critically required, an earlier return to work of a COVID-19 positive health care worker may be considered under work self-isolation, recognizing the staff may still be infectious," Chazan said.
Work self-isolation means maintaining self-isolation measures outside of work for 14 days after symptom onset.
"Simply put, this means staying inside your home, avoiding non-essential trips outside the home and staying away from others in your household," Chazan said. 
In the case of a positive symptomatic health care worker, Chazan noted there should be a minimum of 72 hours after illness resolving, "defined as resolution of fever and improvement in respiratory and other symptoms."
In the case of a positive asymptomatic health care worker, there should be a minimum of 72 hours from positive specimen collection date to ensure symptoms have not developed in that time.