Group raises alarm over Elliott's "private hospitals" comment
Posted: February 25, 2022
(February 23, 2022)
By: Ian Kaufman, TBnewswatch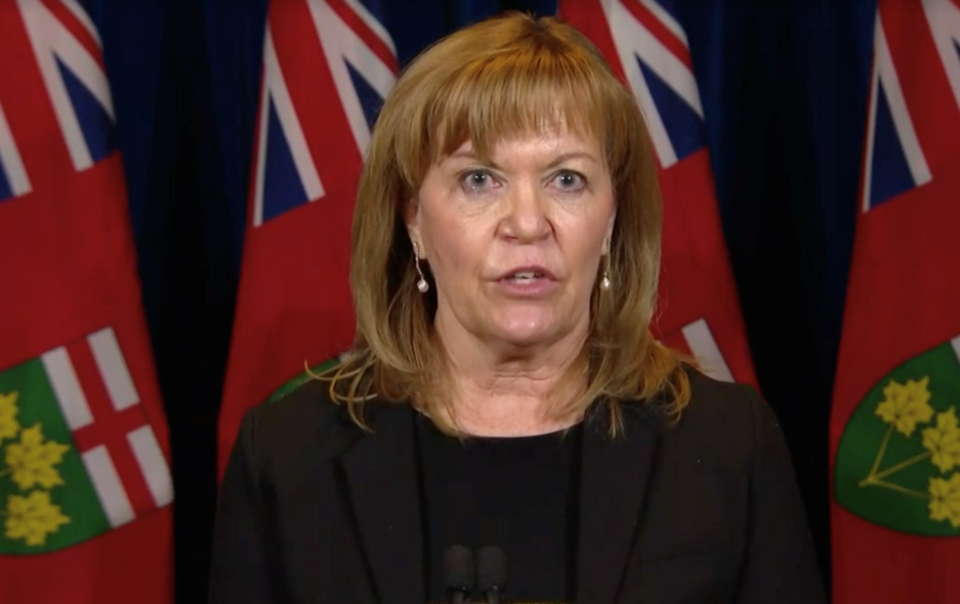 Health Minister Christine Elliott at a press conference on Monday, January 3.
THUNDER BAY – An advocacy group is ringing alarm bells over what it says is a provincial plan to privatize core health care services.
Pointing to an already expanded role for the private sector in long-term care, home care, and testing, the Ontario Health Coalition vowed at a virtual event Wednesday to launch its largest-ever advocacy campaign to fight the trend ahead of the June provincial election.
Executive director Natalie Mehra called a comment mentioning "private hospitals" by Minister of Health Christine Elliott earlier this month a "bombshell."
On Feb. 1, while addressing the resumption of procedures and surgeries after the Omicron wave, Elliott said, "We're opening up pediatric surgeries, cancer screenings, making sure that we can let independent health facilities operate, private hospitals, all of those things are possible because we do have the capacity."
It's a sign of the government's plan to expand the role of private clinics, the OHC charges.
"This really is a bombshell announcement, and it's disastrous," said Mehra. "It would be disastrous at any time. At this particular time, it would be a mortal blow to the public health system."
Legislation has barred the creation of new for-profit hospitals since the 1970s, but Mehra said the government is using the crisis of the pandemic as a pretext to blur that line.
"In their written pandemic plan, they said they were planning to allow the for-profits to do surgeries and diagnostics as a way to 'clear the backlog' from the shutdowns," she said.
Katha Fortier, assistant to the national president of Unifor, who also joined Thursday's OHC virtual meeting focused on Thunder Bay, agreed.
"I think there's obfuscation happening there," she said. "What you're talking about is allowing [private clinics] to do overnight surgeries, allowing them to have inpatient beds, allowing them to do a range of diagnostics… taking them out of our public hospitals in a way that we have not seen since the inception of our public hospital, public insurance system in Ontario."
Elliott's office did not immediately respond to a request for comment from TBNewswatch. However, it has pushed back after the OHC made similar contentions in other recent virtual meetings, saying the minister's comments were taken out of context.
"Independent health facilities and private hospitals that perform publicly funded procedures already exist in Ontario," press secretary Alexandra Hilkene told CTV News.
"These facilities perform publicly (OHIP) funded procedures and will ensure patients can access the health care they need when they need it."
In 2019, facing scrutiny over whether the Ford government would open the door to new private hospitals, Elliott ruled out the possibility.
The government agrees "there should be no opportunity for people to skip in line or move ahead in line over other people because of monetary considerations," she said at the time.
Fortier is skeptical, pointing to a proposal released last week from the Ontario Medical Assocation (OMA), representing the province's doctors.
The association recently released a report indicating the province is behind on over one million surgeries and around 20 million other patient services.
"It doesn't seem like a coincidence," she said. "The people that stand to profit from privatization mostly are doctors, who would be owners and operators of these clinics. Coincidentally, their association has come out with a plan that speaks to just that. They claim it's about relieving the pressure on our public health care system, but we've been down that road before – clearly it won't."
In an interview, Thunder Bay-Atikokan MPP Judith Monteith-Farrell of the opposition NDP said she shares the group's concerns, calling Elliott's comment "shocking."
"The Health Minister has been signalling in several statements this idea of 'mission-driven organizations' or other organizations that would be the solution to some of our health care concerns," she said. "This recent statement [came] when things were very tumultuous in our province – we were in the middle of chaos… It was disturbing, because we know privatized health care is not the answer – we've seen the nightmare in home care and long-term care. So for her to come out so clearly was very shocking."
It's among a "slew" of Ford government moves to privatize health, the group asserted, citing the awarding of licenses for around 18,000 new and existing long-term care beds to private companies despite a markedly worse safety record during the pandemic.
The Ford government has also expanded the private sector's role in COVID-19 testing and vaccination, advocates noted.
Mehra said the LTC example serves as a clear warning.
"Look at long-term care," she said. "The Harris government brought in for-profit long-term care operators; they turned into chains; those chains have consolidated, now we have private equity companies [that] are simply investment vehicles – they're in it to take out as much money as possible… it's a revenue stream for them."
"What we're talking about is doing the same thing to our hospitals, to our home care, across the health care system, to our pandemic testing system."
In response, the coalition plans to launch what Mehra called the biggest campaign in its history, looking to make health care privatization an election issue (she emphasized the group is non-partisan).
Jules Tupker, of the Thunder Bay Health Care Coalition, said Thursday the local group would be looking to mobilize residents in that fight.
He urged those interested to join a local privatization summit on March 24. More information is available by emailing jtupker@tbaytel.net.
Click here for original article