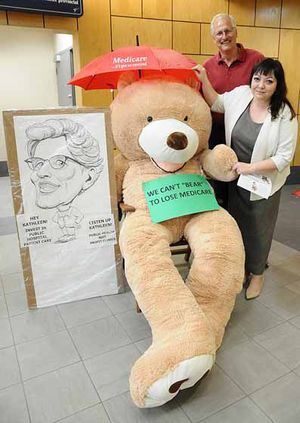 Group stands up for Medicare
Posted: June 15, 2017
(June 15, 2017)
Members of the Ontario Health Coalition arrived at Thunder Bay City Hall carrying an enormous teddy bear that has become the emblem of their Ontario tour to draw attention to health care privatization.
Natalie Mehra, the executive director of the Ontario Health Coalition, said it all began when one of the coalition members discovered the large bear at a Costco in London, Ontario. The discovery lead to a campaign idea: "We can't bear to lose Medicare."
Mehra said they loved the idea and purchased a bear which they are taking across Ontario.
"Most Canadians take public health care for granted and assume it's always going to be there for us," she said. "But across the country, private for profit clinics are moving in and taking over services that have been cut from out local public hospitals and charging exuberant fees."
Mehra added that many of these patients are elderly and are being charged thousands of dollars for needed services.
All 'needed' health care has to be provided without extra user fees for patients.
"The principle of public Medicare in Canada is that access to care should be based on need — not wealth," she said. "But the private clinics are violating Canada's Medicare laws and undermining the principle of equal access to health care."
Some of these services include audiology, physiotherapy, speech pathology, cataract surgeries, and diagnostic MRIs and CT scans.
Mehra alleges that these private clinics, many of them set up in wealthy neighborhoods in large urban centres, are double-dipping by charging their patients for their service and collecting fees from OHIP as well.
"OHIP is paying these doctors in these (private) clinics and they are charging patients as well. They are double-dipping," she said.
So why does the patient go to these expensive clinics?
"People are going to these clinics to be 'exclusive' and because health care services have been cut drastically or curtailed — patients have long waits for these services," she said.
"But often people are referred to the clinic and have no idea that they are private and will be charged extra user fees. Then they are afraid to say 'no' to the doctor and often, these clinics are upselling using extremist, manipulative language."
Mehra said the upselling convinces patients that private clinic procedures are much better than outdated procedures supported by OHIP at your regular doctor's office or at the hospital. And to add to the pressure, the patient's doctor is actually referring them to private clinics and will even exaggerate (the length of) wait lists.
"But they have a choice to go to public hospital," stressed Mehra.
"People should know that everything you need for most surgeries, are covered by OHIP."
Click here for original article