Hamiltonians share hospital concerns
Posted: October 24, 2017
Posted: October 23, 2017
By: Natalie Paddon, The Spec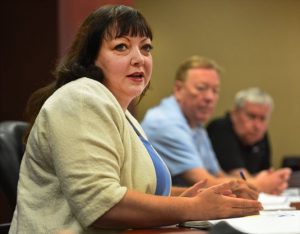 In this file photo from August, Natalie Mehra, executive director of the Ontario Health Coalition, speaks during a media conference. – Hamilton Spectator file photo
Before last December, Suzanne Clancy never had reason to learn how to navigate the ins and outs of the local hospital system.
But things changed quickly when her husband David was admitted to the Juravinski Hospital with what turned out to be a toxic reaction to medication. She later learned the now 78-year-old would not be able to return home.
"Your life can be turned upside-down in a heartbeat."
Clancy was one of a dozen patients, workers and family members who shared their stories at a hearing Monday night hosted by the Ontario Health Coalition on how to improve hospitals.
The coalition is touring the province to gather input ahead of the upcoming provincial election to help shape its platform.
For Clancy, the added cost of her husband's care surprised her: the $20 to park each visit; the food she'd bring him from the cafeteria so he had more variety; the reading materials she would buy him.
But her biggest discovery was learning the right questions to ask to get the best care for her husband, Clancy said, stressing the need for patient advocates.
"I cannot tell you the pressure they put on me to dump my bed-blocking husband into a totally inappropriate setting," she said, noting he since made the transition to long-term care a couple of weeks ago.
The coalition's hearing in Hamilton came on the same day the province announced it is making more than 1,200 new hospital beds available across Ontario.
Last month, the Ontario Hospital Association called for "rapid and aggressive" new investment in hospital services to avoid a possible "capacity crisis" this winter when flu season begins.
Natalie Mehra, the coalition's executive director, welcomed the announcement but said it doesn't go far enough.
"This is just a temporary Band-Aid," she said, adding it will only partially alleviate the "crisis" in hospitals, instead of solving it.
The hearings also come amid a rising frequency of instances when there are one or no ambulances left to respond to emergency calls in Hamilton.
Known as a code zero, these events are related to off-load delays, when ambulances are stuck at hospitals while paramedics wait — sometimes hours — for emergency department staff to take over care of a patient.
"When you drive by St. Joe's here, you'll see six ambulances lined up to off-load their patients," Mehra said, noting the same situation is happening across the province.
Looking ahead, Mehra said the coalition plans to hold a larger community meeting in Hamilton before Christmas to raise awareness about the situation in local hospitals.
Following that, plans are underway for a day of action at Queen's Park in February or March to sound the alarm about cuts to Hamilton hospitals, including the most recent ones amounting to $27 million, she said.
"The cuts are completely unjustifiable here," she said. "It's reckless."
npaddon@thespec.com
Click here for original article