Health Alliance hasn't had to fine hesitant patients
Posted: December 1, 2022
(November 30, 2022)
By: Tom Morrison, Chatham Daily News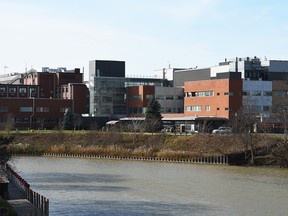 The Chatham site of the Chatham-Kent Health Alliance is shown Nov. 19, 2020. (Tom Morrison/Chatham This Week)
The Chatham-Kent Health Alliance hasn't had to use new measures granted by the province to move certain patients out of hospital faster.
Bill 7, also known as the More Beds Better Care Act, passed through the Ontario legislature in August. A component of the bill which requires hospitals to fine alternative level of care patients $400 a day if they refuse to be transferred to their non-preferred long-term care facility came into effect Nov. 20.
Patients are classified as alternative level of care when a physician determines the hospital is no longer the right place for their care.
"At this point we haven't had to activate some of the tools, I'll call them, from the bill itself," Caen Suni, the local hospital group's vice president of clinical programs and operations, said. "It's not something we've had to do from our end."
Suni said there is always a conversation with patients about their options.
"The outcome of that conversation, as we know, is the direction to hospitals to provide for those fees that we can charge," he said. "At this point, we have not had a case escalated to our leadership team to have to provide for that fee."
Patients have also been "moving in greater numbers to their more appropriate area of care, whether it's a long-term care home or rest home as well," Suni said.
The provincial government has stated the intent of the bill is to free up space in hospitals while some patients are on a wait list for their preferred long-term care facility.
In Southern Ontario, patients can be transferred up to 75 kilometres away under the bill, which passed without public consultation.
The Ontario Health Coalition recently launched a charter challenge to strike down the bill.
"Despite the title given to it by the Ford government, the Act neither provides more beds nor better care," the coalition said in a recent statement.
"Instead, it affects patients, the vast majority of them elderly, who are called alternate level of care patients waiting for long-term care or other services."
The Ontario Nurses' Association has also said the bill won't address the hospital crisis, which it argues is due to understaffing of health care workers.
Click here for original article