Health coalition opens campaign office in the Sault
Posted: November 15, 2019
(Novemeber 12, 2019)
By: James Hopkin, SooToday
Volunteer-driven office to promote November 30 rally in Sault Ste. Marie protesting cuts to provincial healthcare.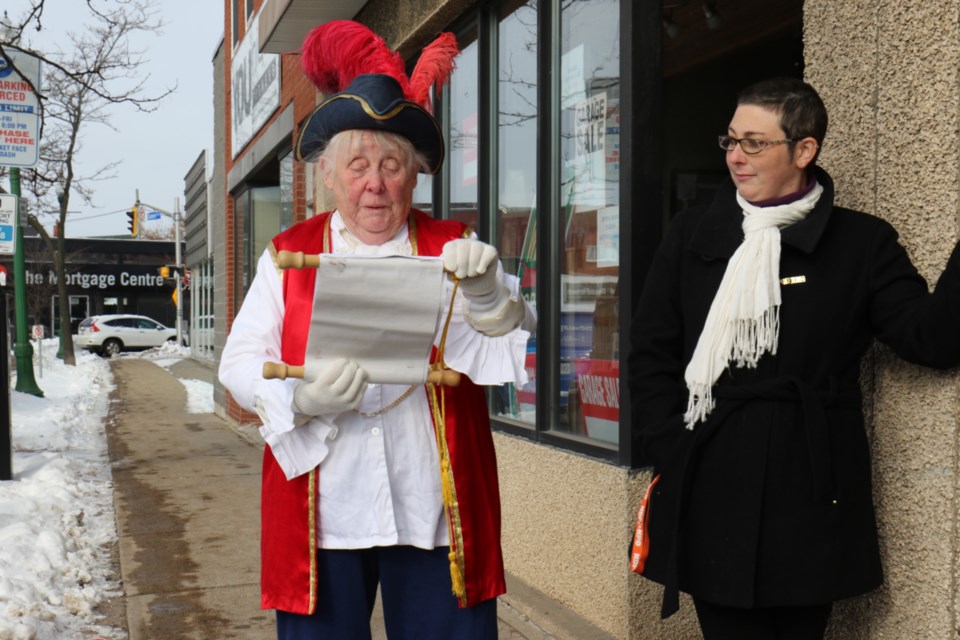 A 'town crier' was enlisted to announce the opening of the Sault Ste. Marie Health Coalition office Tuesday.
A town crier – with a scroll and bell in tow, no less – was enlisted by the Sault Ste. Marie Health Coalition to officially declare the opening of its new, volunteer-driven campaign office at 24 Queen St. E. Wednesday, in an ongoing effort to protest sweeping cuts to provincial healthcare.
Ontario Health Coalition Executive Director Natalie Mehra, who was on hand to cut the ribbon on the new digs, was in Sault Ste. Marie late last month to announce a local Nov. 30 rally protesting cuts to hospitals, long-term care facilities and ambulance services throughout Ontario.
"In this year's budget, they have imposed real dollar cuts on local hospitals, real-dollar cuts on long-term care homes," she told the small crowd gathered for the opening of the local office.
The Ontario Health Coalition says the province plans on closing 25 of 35 local public health units, 49 of 59 local ambulance services and 12 of 22 ambulance dispatch units across the province.
Sault Ste. Marie Health Coalition co-managers Sara McCleary and James Kemp were also on hand at Tuesday's campaign office launch.
For McCleary, the cuts to healthcare across Ontario have impacted her family directly – her four-and-a-half-year-old son, Oliver, currently receives provincially-funded speech-language therapy from Algoma Public Health.
"I wanted to be here and be part of this for everybody in the Sault who is facing something like the issue facing my son," McCleary told reporters at the campaign office launch. "He's four years old, he still speaks at a grade three level. We've been working with Algoma Public Health, but we found out recently that this is going to be his last year working with them, and that was directly because of those cuts."
"So it's important that we fight back against these cuts so that we don't have more issues like this and people are still receiving the services that they need."
Oliver will now wrap up his therapy sessions with Algoma Public Health after he's done junior kindergarten, as opposed to receiving the same care throughout senior kindergarten.
"The therapy has helped a lot, and I think that one year will make a very big difference. It could be the year that he finally catches up," said McCleary. "He will be receiving services through the school, but it won't be as intense, and it won't be as regular. The public health therapy is really important, and it's really disappointing that he's not going to be getting that for as long as he should."
The campaign to save local healthcare services in the region is now looking for volunteers and monetary donations from the public in order to produce and distribute signage and leaflets leading up to the healthcare rally at the George Leach Centre Nov. 30.
Organizers say the local rally is still in the planning stage.
Similar Ontario Health Coalition rallies have taken place in Chatham and Toronto in November, with another larger rally scheduled to take place in Ottawa Dec. 7.
The Sault Ste. Marie Health Coalition office will be open Monday to Friday 11 a.m. to 5 p.m.
Those who want to make a donation or volunteer their time are encouraged to stop by the office or contact Sara McCleary directly at saramccleary@gmail.com or (705) 297-1868.