Kenjgewin Teg, Wiikwemkoong work to help fill PSW void
Posted: August 20, 2020
(August 19, 2020)
By: Warren Shlote, Manitoulin Express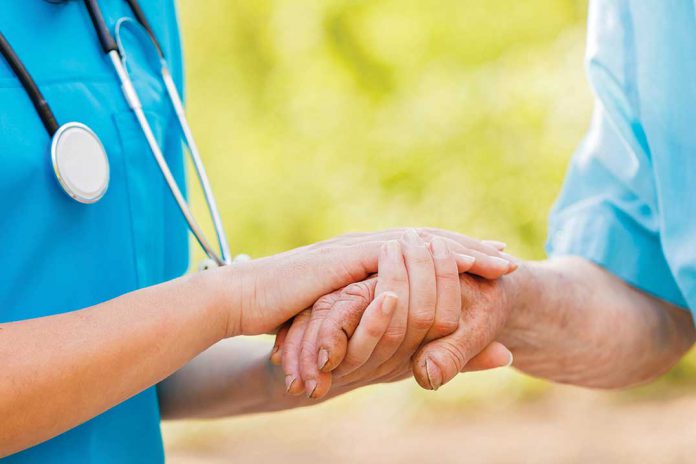 MANITOULIN – Two free courses on Manitoulin Island will train up to 50 people to become personal support workers (PSWs) in partnership with schools, nursing homes and a provincial grant, joining efforts to relieve some chronic staffing shortages in health care.
"Last year, nine students started with us and six successfully completed the program. All six of them are working in long-term care (LTC) here on Manitoulin Island," said Natasha Abotossaway, health and wellness program co-ordinator at M'Chigeeng's Kenjgewin Teg, one of the two Island locations hosting the course this year.
The Island-based PSW course is two semesters long and runs from mid-September to April in partnership with North Bay's Canadore College. The course normally cost more than $5,000 for tuition, books, supplies and health screenings but the 50 people in this year's cohort will get a free education through the Ontario government's Skills Catalyst Fund.
Students in the Kenjgewin Teg program who live nearby will complete a second-semester practical placement with Manitoulin Lodge in Gore Bay or Manitoulin Centennial Manor in Little Current. Those taking the Wiikwemkoong course will perform their 265-hour placement at Wikwemikong Nursing Home (WNH), a sponsor of the program alongside Wikwemikong Development Corporation and Wii-ni n'guch-tood Labour Market Services.
Instructors of the program and employers say PSW graduates are likely to find work in the field.
"There's always shortages in PSWs everywhere, whether in LTC, home or community care," said Cheryl Osawabine-Peltier, administrator of WNH. "The reason we're really pushing for this program right now is we're working on redeveloping our nursing home by 2025."
WNH presently hosts 59 beds and plans to add 27 more for a total of 96 beds.
Kenjgewin Teg instructors said the free tuition will reduce barriers for students, especially for those who may be working and supporting a family.
"It's great that we have the program because (the students) are getting trained here with culture implemented into the program, which is really important because a lot of nursing homes, home and community care work includes First Nations clients," said Kendra Recollet, who has taught within the program for three years.
Island care homes have been supportive of the local education and arranged for clinical instructors within their homes to aid the students.
"(Students) are grateful and happy for the opportunity to work on these teams and especially getting them used to working and providing care here on the Island," said Kenjgewin Teg PSW program clinical supervisor Whitney McGraw.
There is no registration deadline for the program that starts in mid-September but there has been substantial interest in both the 35-person Kenjgewin Teg and 15-person Wiikwemkoong offerings. Ms. Abotossaway said students from across Ontario are welcome to apply to her school's program.
The first semester will be offered remotely both through virtual classes and with independent study. Last year, Kenjgewin Teg's program was able to continue despite the pandemic restrictions; all students completed their placements on time and received extra experience in working during a challenging time.
Although the PSW field can be challenging, Ms. Osawabine-Peltier said WNH strives to create a fun, supportive and safe environment for its staff. This can improve morale and lead to better care outcomes for residents.
"One of the main reasons we wanted to host the program is because once the students see how the environment is here, they'll want to stay," said Ms. Osawabine-Peltier.
The Ontario government has also attempted to incentivize workers to join the field through a $4 per hour 'pandemic pay' bonus for front-line employees, though it was a temporary measure and expired on August 13.
In the interim, many homes across Canada have had reduced staffing levels during the pandemic and temp or part-time workers have had to make up for the deficits.
George Williamson has worked as a home-care PSW in Wiikwemkoong for four years as a second career. He has worked to address some of the staffing crises within the sector, including being the only PSW on a committee to explore possible solutions to draw more people into the sector in the Sudbury region.
"I think it's great that they're putting on a course and offering it. I find there needs to be more work done yet for advertising it as a career, partly because of the bad image that's been created over the years with reports of bad conditions in some LTC," said Mr. Williamson.
He said PSWs are often scheduled to look after eight people in this region, with other areas hosting up to 10 residents per PSW. Some shifts carry higher numbers.
A ratio of six patients per PSW would be a good starting point, he said.
To draw more people into the sector and have better care outcomes, he suggested creating more shadowing opportunities to prepare employees on subjects such as where each assigned resident keeps their clothes and other supplies.
Another challenge he shared was the 12-hour shifts common to LTC, which would be tough for parents of young children especially since schools are only open for partial weeks this year, raising child care questions.
The pandemic pay boost was a nice gesture, he said, but the majority of PSWs get into the field because they want to make a difference in the others' lives. He was unsure of whether or not the extra cash would substantially increase staffing levels.
Front-line supportive care is in need of a boost. A July survey from Ontario Health Coalition revealed a majority of LTC workers had reported equal or lower staffing levels during the COVID-19 pandemic, leaving workers with less time per resident.
"Care homes (as a whole) are not ready for a second wave. We expect more staff will leave if that second wave comes," said Ontario Health Coalition executive director Natalie Mehra. "We are asking the Ford government to take priority action to deal with the staffing emergency in LTC."
Click here for original article