LHSC boss's medical leave 'stunned' advocate, while replacement criticized by nurses' union
Posted: April 4, 2020
(April 3, 2020)
By: Jonathan Juha & Norman De Bono, London Free Press
London Health Sciences Centre's top boss, Dr. Paul Woods, is taking a temporary a medical leave of absence and is self-isolating at home, The London Free Press has learned.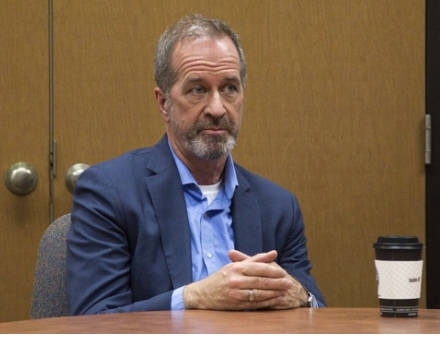 London Health Sciences Centre's president Dr. Paul Woods (Free Press file photo)
The head of Southwestern Ontario's largest hospital is self-isolating at home on a temporary medical leave as the coronavirus pandemic puts pressure on the health system nationwide.
London Health Sciences Centre has granted president and chief executive Paul Woods the leave effective immediately, a statement from the hospital's board chairperson Amy Walby says. There are no more specific details about his condition.
"While it is believed that this absence is required due to a pre-existing medical condition, testing will be undertaken to confirm and more information will be provided in due course," the statement reads.
"Dr. Woods is currently in self-isolation at home."
Woods's absence comes as the country battles the COVID-19 pandemic, an intense public health crisis that has upended life nationwide and made work at hospitals like LHSC more crucial and complicated.
The novel coronavirus, which originated late last year in China, has infected more than one million people around the world, killing thousands while overrunning health-care systems in its path. There have been three deaths in London and the immediate area, all in the past week.
LHSC chief operating officer Neil Johnson is serving as the hospital's acting president and chief executive.
"The board is confident in Neil's leadership capabilities and he has our full support," Walby said.
The union representing nursing staff at LHSC is less concerned about Woods stepping away than with his replacement.
Johnson understated the need and overstated the availability of protective equipment, including masks, for front-line health-care workers, said James Murray, president of Ontario Nurses Association Local 100.
"We don't feel Neil Johnson is the appropriate person to be acting chief executive. He has made conflicting statements regarding PPE (personal protective equipment). He has not been forthcoming, he has gone on record saying there was not a shortage when in fact there was," said Murray.
As for Woods taking a medical leave, Murray would only "wish him well," adding he has a right to privacy at this time.
Peter Bergmanis, co-chairperson of the London Health Coalition, a grassroots advocacy group for the health-care system, said Woods's absence will likely not be felt in the front ranks, but news of his stepping aside came as a surprise to workers.
"I was stunned by that announcement. These are very unusual circumstances," said Bergmanis.
"It really won't change anything, but the optics are not good. You'd like to think the captain of the ship is on the bridge."
More important for Bergmanis is ensuring hospital health workers have the resources they need to do their jobs. He questioned how prepared LHSC has been for the COVID-19 pandemic.
"I think staff are very stressed right now. We were not prepared when the pandemic broke, they have not provided resources," he said.
Front-line staff at LHSC and hospitals around the world are encountering limited supplies of masks and other personal protective equipment. Some nurses at LHSC have refused work on the basis of unsafe working conditions.
Bergmanis is also concerned 49 bed closures announced by LHSC last year have not been cancelled, only postponed.
"There is a lack of critical care beds," he said.
It is not clear how long Woods's medical leave will last. LHSC would not provide further details.
Born in Scarborough, Woods was named president and chief executive of LHSC in the fall of 2017. He was previously a senior vice-president with Trinity Health in Michigan, a $13-billion firm that operates in 22 states.
The head of LHSC oversees doctors, staff and scientists at University and Victoria hospitals, managing an annual budget of more than $1 billion.
Click here for original article