Local health coalition amplifies concerns about privatization of hospitals
Posted: March 2, 2022
(February 28, 2022)
By: Santana Bellantoni, Guelph Today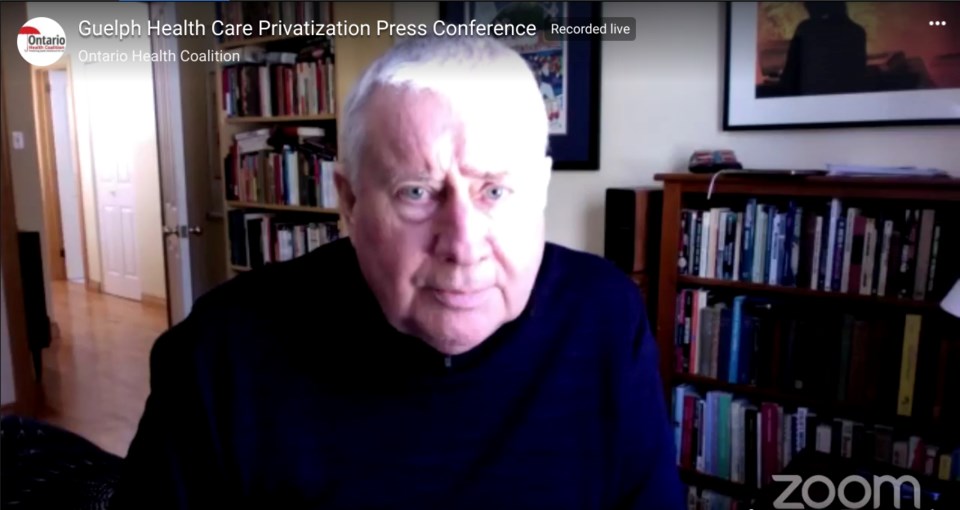 Screenshot of Michael Hurley, President of Ontario Council of Hospital Unions from Guelph Health Coalition press conference via ZoomSantana Bellantoni/GuelphToday
The Ontario Health Care Coalition is launching a campaign to fight against for-profit privatization of hospitals.
On Monday coalition members, including members of the coalition's Guelph Wellington chapter, held a virtual press conference via zoom to address their concerns with privatization.
The OHCC represents 400 organizations and a network of local health care coalitions, ranging from unions to seniors groups.
"Rallying people in Guelph will be key to the fight back," said Michael Hurley, President of Ontario Council of Hospital Unions.
"Under this model, if I'm wealthy I can go to the head of the line even though my needs are not as great."
"If one reduces wait times for the wealthy, that is not public health care," said Nancy Olivieri, hematologist and researcher. "Our Canada Health Act is based on need for everyone at the point of service. We are talking about favouring the rich few. Most people don't want to die faster and pay more for it."
She explained there is a difference in quality of care and oversight between public and private health care. Usually poor quality and little oversight in the private system.
According to an article in the Canadian Medical Association Journal, "For-profit hospitals and dialysis clinics have high death rates. Investor-owned nursing homes are more frequently cited for quality deficiencies and provide less nursing care, and investor-owned hospices provide less care to the dying, than not-for-profit facilities."
Private health care has higher costs with lower quality care but re-distributes money amongst health workers stated the journal article.
In 2017 the Ontario government eliminated a 44-year ban on private hospitals. Since then, as of 2019 there are seven privately-owned, for-profit hospitals in Canada.
In 2017 Canada ranked 88 out of 100 for quality and health care access.
"In the private clinics around Canada you'll see costs for MRI's that start at around $1,000," said Natalie Mehra, executive director of the Ontario Health Coalition. "In the public system the cost is $250 to $380 on average for an MRI."
Another major issue if privatization comes into play is staff may leave the public system to work in the private sector whether it be for higher pay or better working hours, said Mehra. This will take away staff from already understaffed public hospitals.
Privatization is not going to improve the health care system," said Mehra.
The coalition believes there needs to be more funding to the public system.
"Ontario funds our health care system at the lowest rate in Canada. We have the fewest hospital beds left," said Mehra.
"In order to move forward significantly we need the resources, financial and human, to provide the care we need."
"We need to regain control over those parts of the health system that have been privatized because you can't improve the health system if it's operated by for-profit providers whose interest is to take as much money out as possible."