London hospital defends shakeup of brass, won't reveal cost to taxpayers
Posted: September 24, 2022
(September 23, 2022)
By: Jennifer Bieman, London Free Press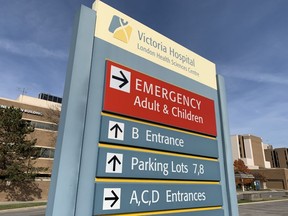 Victoria Hospital in London.
Southwestern Ontario's largest hospital, which has added new presidents for its two London campuses, is defending an overhaul of its executive ranks, but won't say what the restructuring is costing taxpayers.
London Health Sciences Centre (LHSC) has gone from an executive team of 20 people to 19 in the shake-up that's been more than a year in the making, a top-to-bottom restructuring that's only just beginning, the hospital's president says.
The hospital declined to disclose the cost of the new team, the result of a series of outside hires, internal shifts of existing executives and terminations and departures of former top staffers.
The changes in LHSC's top ranks come after more than two years of pandemic pressure on hospitals, amid worker absenteeism due to COVID-19 infections, staff burnout and a provincial wage freeze affecting front-line staff.
"The restructuring was about looking at what we learned from the pandemic and the hope and the opportunities of the future health system transformation and making sure we're organized in a way that will make us meet the needs of the communities we serve," president and CEO Jackie Schleifer Taylor said Thursday.
LHSC has lost at least six executives since Schleifer Taylor took the reins as interim president and chief executive in January 2021 following the termination of former
president and chief executive Paul Woods in the wake of a pandemic travel scandal. Woods has launched a $3.5-million wrongful dismissal suit against the hospital.
Schleifer Taylor, the former Children's Hospital president, was named LHSC's permanent president and chief executive last November.
LHSC hired a third-party recruiter to help it restructure, Schleifer Taylor said. Some of the hospital's top brass left to pursue other opportunities, while others were required to apply for roles in the new structure, she said.
"These were redesigned roles to fit our restructuring, the scope and breadth of the roles is very different than they were before. Individuals who had been at LHSC before were given the option to compete for these roles with external candidates," Schleifer Taylor said.
"It proved to us we have world-class leaders already here at LHSC…….. I never in my
wildest dreams imagined that the restructuring would produce a whole new leadership team. We had no desire for that, because we had that talent here already."
LHSC said the salary and benefits of the new team would be released in accordance with Ontario's legislation requiring the annual disclosure of public employees paid
$100,000 or more.
Schleifer Taylor said the compensation total for the new executive is "comparable" to the old one.
The so-called sunshine list of public-sector workers who make more than $100,000 a year is released in March.
Peter Bergmanis, with the Ontario Health Coalition, said the public deserves to know the cost of the new leadership team.
"The public – which is paying the lion's share of the bills for our public health system – deserves to be informed. These decisions shouldn't be done in secret, especially when we're dealing with a crisis in staffing," he said.
The sunshine list provides an incomplete picture of the total cost of executive compensation at LHSC because it does not include any employees making less than
$100,000 or doctors, who bill Ontario's public health insurance system but may also hold leadership roles within the hospital.
The hospital's big moves last year – Woods' termination, and the departure or firings of four other top-level executives – prompted LHSC to pay out $1.5 million in severance, salary and benefits to the five, despite all of them leaving in the first half of 2021.
Without that sum, the 15 executives listed on the sunshine list in last year's public- sector salary disclosures show LHSC's executive team cost the hospital about $3.37 million in salary and benefits.
The hospital's total annual budget is about $1.3 billion.
LHSC's new organizational chart does away with executive vice-president and most vice-president job titles, opting to call its leadership team members simply executives. The move is meant to signal that every voice in the team is given equal value, Schleifer Taylor said.
LHSC's two sites, University Hospital and Victoria Hospital, now have their own presidents. Children's Hospital also has a president, a position that pre-dates the executive shake-up. All three report to corporate hospital administrative executive Brad Campbell, a new position and outside hire announced in June.
The new president roles at University and Victoria hospitals will provide direct accountability for performance and patient care at each site, Schleifer Taylor said, a need that snapped into sharp focus during the pandemic.
"If a patient enters the emergency department at University Hospital, they tend to then be seen throughout the footprint of University Hospital," she said. "Putting all our departments and services that support that person under the umbrella of a leadership structure that follows that patient's path, is the primary objective of this restructuring."
Bergmanis struck a different tone.
"These high-paid executive positions mean nothing to a patient waiting 13 hours in emerg. They won't make a . . . hill of beans difference. If they're still being paid a high amount of money, that didn't trickle down to the front-line staff who need it," he said.
LHSC looked to other hospital networks in Ontario, including the larger University Health Network in Toronto and the similar-sized Hamilton Health Sciences, to see how those organizations structured their top ranks, Schleifer Taylor said. Both hospital networks have 22 executives, she said.
But Bergmanis said he sees a different trend.
"This is just part and parcel of what you see in a privatized system. You've got high-paid executives and cut corners everywhere else."
LHSC's restructuring is only just beginning, Schleifer Taylor said.
"Restructuring like this takes time to really implement thoughtfully and carefully. It's not something we're rushing," she said. "We've established the executive level and are working our way down. The sole objective is to make sure that the support and
infrastructure is in place for the people who are at the clinical interface with our patients."