Long term care beds coming too late, say health policy experts
Posted: November 10, 2017
(November 10, 2017)
By: Joanna Frketich, Hamilton Spectator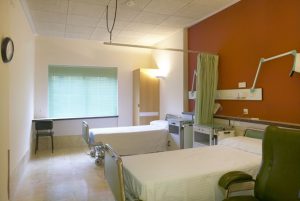 Beds are needed now, as Hamilton and Burlington alone have about 1,900 people waiting for long-term care. – Getty Images/iStockphoto
The Liberal government's promise of thousands of long-term care beds over the next decade is too little and far too late, say health advocates and policy experts.
"It's good they are talking about the issues that we've been raising for so long as a crisis," said Natalie Mehra, executive director of the Ontario Health Coalition. "On the other hand, this is years from now and may or may not happen."
The province plans to open 5,000 new long-term care beds within four years with a total of more than 30,000 beds over the next decade as part of its action plan for seniors announced in Hamilton by Premier Kathleen Wynne on Tuesday.
"That's a huge increase," said Michel Grignon, director of the Centre for Health Economics and Policy Analysis at McMaster University. "One bed in a long-term care home costs approximately $50,000, so we are talking about $1.5 billion."
But the beds are needed now considering Hamilton and Burlington alone have about 1,900 people waiting for long-term care.
"The wait list for long-term care beds (in Ontario) is approximately 30,000, so to solve the problem of the wait lists we would need to build those 30,000 beds now," said Grignon. "If you ask hospitals, they would like to see more beds in the near future."
With an election scheduled for June, the Liberals are facing gridlocked hospitals that have more patients than beds before the busy flu season even starts. A big part of the problem is long delays in discharging patients who need other types of care — most often long-term care.
Right now, 80 Hamilton hospital beds and 23 in Burlington are taken up by patients waiting for long-term care, says the Hamilton Niagara Haldimand Brant Local Health Integration Network.
"If all those beds were not occupied and were used as acute care hospital beds the problem would be solved," said François Béland, co-director of Solidage, a McGill University and Université de Montréal research group on frailty and aging.
So is opening beds the best way to cope with hospital overcrowding and an aging population?
"How much does it cost to have one person in one bed in long-term care?" said Béland. "Now ask yourself, how many home care hours can you deliver (with that) — a lot. But it's only if you're willing to organize that level of home care and all of the stuff that goes around it that you can say, 'We don't need the beds.' But if you are not willing to invest in home care then you need those beds."
A transformation of the home care system is what some health policy experts say is missing from the action plan.
"The solution of last resort should be to build a nursing home," said Steven Lewis, research consultant and adjunct professor of health policy at Simon Fraser University. "I'm not sure that this plan is essentially saying, 'We have done everything we possibly can with home care to keep people out of nursing homes.'"
It's not just about adding more home care hours or money to the budget.
"There are a large number of people who are on nursing home waiting lists because there is no existing alternative," said Lewis. "Imagine if you pooled the long-term care and home care budgets. My strong suspicion is there would be a lot fewer incentives to put people in nursing homes and a lot more creative thinking about how to keep them out of nursing homes."
Without a doubt some new long-term care beds are needed and fast.
"There is certainly a growing, legitimate, unavoidable need for nursing home beds," said Lewis. "The question is how do you minimize the need?"
Béland sums it up by saying: "Do we want to stick to a system where long-term care facilities are the kingpin?"
Waiting for long-term care
Patients can be on the wait list for more than one home
Hamilton
City-wide
3,819 beds
1160 waiting for a bed
962 waiting to move from one long term care home to another
St. Peter's Residence at Chedoke
West Mountain
210 beds
618 waiting
The Village of Wentworth Heights
Central Mountain
120 beds
597 waiting
Idlewyld Manor
West Mountain
192 beds
495 waiting
Macassa Lodge
East Mountain
270 beds
441 waiting
Chartwell Willowgrove
West Mountain
169 beds
376 waiting
Ridgeview
Stoney Creek
120 beds
352 waiting
The Meadows
Ancaster
128 beds
315 waiting
Regina Gardens
West Mountain
128 beds
287 waiting
St. Joseph's Villa
Dundas
390 beds
287 waiting
Extendicare Hamilton
West Mountain
159 beds
270 waiting
Queen's Garden
Central Hamilton
128 beds
245 waiting
Arbour Creek
East Hamilton
128 beds
240 waiting
Alexander Place
Waterdown
126 Beds
188 Waiting
Shalom Village
West Hamilton
109 beds
166 waiting
Clarion
Stoney Creek
100 beds
132 waiting
Heritage Green
Stoney Creek
166 Beds
123 waiting
The Wellington
Central Mountain
102 beds
94 waiting
Victoria Gardens
East Hamilton
76 beds
72 waiting
Grace Villa
East Mountain
184 beds
70 waiting
Pine Villa
Stoney Creek
38 beds
49 waiting
Orchard Terrace Care
Stoney Creek
45 beds
31 waiting
Baywoods Place
East Hamilton
128 beds
29 waiting
Blackadar
Dundas
80 beds
20 waiting
Parkview
Central Hamilton
126 beds
19 waiting
Hamilton Continuing Care
East Hamilton
64 beds
14 waiting
Dundurn Place
Central Hamilton
173 beds
13 waiting
Burlington
City-wide
1,279 beds
739 waiting for a bed
480 waiting to move from one long-term care home to another
The Village of Tansley Woods
4100 Upper Middle Rd.
144 beds
667 waiting
Burloak
5959 New St.
144 beds
487 waiting
Creekway Village
5200 Corporate Dr.
144 beds
437 waiting
Chartwell Brant Centre
1182 North Shore Blvd. E.
175 beds
305 waiting
Billings Court Manor
3700 Billings Ct.
160 beds
270 waiting
Hampton Terrace
75 Plains Rd. W.
101 beds
214 waiting
Cama Woodlands
159 Panin Rd.
128 beds
175 waiting
Mount Nemo Christian
4486 Guelph Line
60 beds
47 waiting
Wellington Park
802 Hager Ave.
130 beds
31 waiting
Maple Villa
441 Maple Ave.
93 beds
7 waiting
Source: Hamilton Niagara Haldimand Brant Local Health Integration Network
jfrketich@thespec.com
Click here for original article