Long-Term Care Protest at Piccini's Office
Posted: June 6, 2020
(June 25, 2020)
By: Bill Hornbostel, Port Hope Now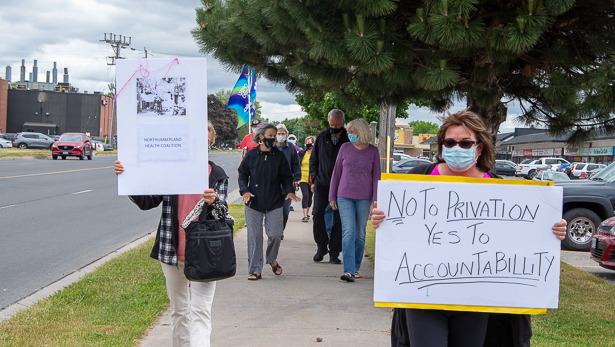 The contents of Bill 161 & Bill 175 focus of Northumberland Health Coalition
Article and image by Bill Hornbostel
At noon on Wednesday, June 24, a small group of protestors gathered in front of MPP David Piccini's office located on Peter Street in Port Hope. Responding to a call from the Northumberland Health Coalition to have their concerns heard, they brought attention to two bills in Queen's Park that affect long-term care in Ontario, Bill 161 and Bill 175.
Linda MacKenzie-Nicholas of the Northumberland Health Coalition said, "There's a lot of stuff going on and people are very wrapped up in COVID. And they don't know that there's some bills that are going to the government this week."
"Bill 161 will prevent family members of residents from suing private corporations," said MacKenzie-Nicholas. "We're talking about the nursing homes where residents died. There are already some class action suits starting up."
MacKenzie Nicholas continued, "The other one is Bill 175, which will open it up homecare to further privatization. We haven't seen any regulations, and they're trying to pass out this week too."
"We are trying to get the message of raised awareness amongst the public as quickly as we can, because people need to know that no matter what's being said on TV, and how much the premier is saying he cares," MacKenzie-Nicholas said.
"But there are other things that are happening that do not demonstrate justice for a long time, care for the residents, or for the staff," MacKenzie-Nicholas said. "There's been no discussion about raising the minimum hours of care which would provide more staff, which would have really helped in the COVID-19 transmission."
"It sounds really good, but it's like calling people heroes, and you know, then taking away their pay."
Also present at the rally was Roy Brady of the Peterborough Health Coalition. "There are some things in the bill that we object to and haven't been explained to the public," he said. "The public was never even asked what changes they need. It seems to be, 'Let's repeal the acts that already occur and give us the right to substitute whatever we want.'"
"There are no guarantees for how much care there will be that actually is not mentioned in the act at all," said Brady. "It allows the private sector to commit even more so than it is right now, which we've learned over the last three, four months, we need public sector homecare. They've come through for us under terrible circumstances. And yet this government would like to bring the private sector in more so."
Brady continued, "The other thing is, we are repealing the Public Hospitals Act, which guaranteed no more private hospitals since the 1950s. By repealing that, that means that private hospitals could come back. And we've always opposed that."
MPP David Piccini was not present due to government business but a statement was issued: "If we are to get serious about patient-centred care, putting their needs at the centre of our model of care then we need to modernize home and community care, which is exactly what our Government is doing. Care at home and in the community is less expensive, frees up capacity in our hospitals and is where people prefer to be. That's why we are modernizing the delivery of home and community care services by bringing an outdated system into the 21st century. This plan is a part of our comprehensive plan to build healthier communities and end hallway health care. This legislation will break down long-standing barriers, allowing for the seamless coordination of services for patients."
"We know that our Long-Term Care system is broken," continued Piccini. "Before the onset of COVID-19 our Government was already working to replace the dated ward rooms with single and double occupancy rooms. In addition, our Government began a systemic staffing strategy before the onset of COVID-19. We understand that proper staffing plays a significant role in ensuring that the needs of all long-term care residents are being met and we understand that there can be challenges when it comes to recruiting and retaining PSWs, nurses and other front-line staff. Recognizing that a robust long-term care workforce is critical to a sustainable long-term care system, we are working to optimize the efficient and effective use of Ontario's long-term care home workforce; and improving working conditions to promote retention in order to meet current and future staffing needs."
For more information about the Northumberland Health Coalition, you may visit their Facebook page (link).
The current drafts of the legislation are available online for both Bill 161 (link) and Bill 175 (link).
Click here for original article