"Now, Hospitals are becoming even more overcrowded because of that"
Posted: October 19, 2019
(October 16th, 2019)

By: Bruce Corcoran, The Chatham Voice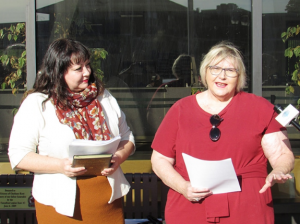 Shirley Roebuck, co-chair of the Chatham-Kent Health Coalition, speaks to reporters Oct. 10 as Natalie Mehra, executive director of the Ontario Health Coalition, looks on. They and others criticized the provincial government over the idea of reducing the number of public health units and EMS organizations in Ontario, and called on the public to join rallies across the province.
Health-care advocates and local labour representatives question the Doug Ford government over proposed mergers of public health units and EMS services.
At a media conference on Oct. 10, Shirley Roebuck, co-chair of the Chatham-Kent Health Coalition, wondered where the provincial government got its advice.
"The government is receiving bad advice," she said. "It doesn't make sense when you think of community needs."
She said public health units provide a plethora of services to the public, including immunization, combating infectious diseases, aiding in infant health, and more.
Roebuck believes centralization of such services – the province is considering going from 35 health units down to 10 – would remove local governance over such agencies, something she said is needed.
Roebuck said the proposed changes to ambulance services is even greater, as the province would go from 49 local EMS services to 10, and go from 22 dispatch centres down to 10 as well.
"Our EMS would probably be run out of London," she said. "I'm afraid rural needs would be placed in a second tier to cities."
She added London-area hospitals are so busy that ambulances can be lined up outside, waiting for beds to free up so they can deliver their patients. With a centralized ambulance service, Roebuck fears if there is a need in or near London, they would task Chatham-Kent ambulances to cover, leaving us short.
Roebuck wasn't alone at the press conference. Representatives from the Ontario Health Coalition (OHC), the Wallaceburg Walpole Island First Nation Health Coalition (WWIFNHC), the Ontario Nurses Association (ONA), Save Our Sydenham (SOS) and local labour associations attended.
Natalie Mehra, executive director of the OHC, said the plan is to hold "stadium-filling events" in various parts of the province to inform the public and to loudly protest the proposed changes.
The first such event is slated for Nov. 2, right here in Chatham at the John D. Bradley Convention Centre.
"These are life-saving services that are vital to the community," Mehra said. "The government needs to hear from the people en masse."
She asks people to attend Nov. 2, to "stand up and protect local health services."
The meeting is set to start at 11 a.m.
For more information or to volunteer, those interested can contact Roebuck at 226-402-2724
Click here for original article