Ontario government invests in private healthcare to address surgical backlog
Posted: January 16, 2023
(January 16, 2023)
By: Brigid Goulem, Belleville Intelligencer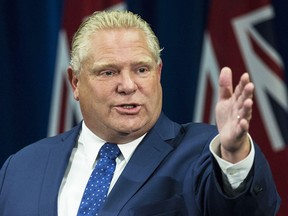 The Ontario Conservative government announced plans on Monday to expand the number of surgeries and diagnostic procedures in for-profit "community surgical centres", with the aim of addressing the backlog of surgeries across the province.
The announcement was swiftly denounced by healthcare advocates and unions as a strategy that will see funding and staff diverted from the public system.
In a media conference on Monday, Premier Doug Ford and minister of health Sylvia Jones unveiled the three-step plan.
The first pillar of the plan involves increasing the number of cataract surgeries in private surgical centres, and an investment of more than $18 million in existing centres.
According to a media release issued by the province on Monday, this investment will "cover care for thousands of patients, including more than 49,000 hours of MRI and CT scans, 4,800 cataract surgeries, 900 other ophthalmic surgeries, 1,000 minimally invasive gynecological surgeries and 2,845 plastic surgeries such as hand soft tissue repair."
The provincial government is also looking to expand the scope of for-profit surgical and diagnostic centres, with a focus on non-urgent, low-risk, minimally invasive surgeries.
The third pillar of the plan is to introduce legislation that, if passed, will allow existing for-profit diagnostic centres to conduct more MRI and CT scanning.
In response to the announcement Ontario healthcare unions—the Ontario Nurses Assocation, CUPE/OCHU, OPSEU/SEPFO, SEIU Healthcare, and Unifor—issued a joint statement calling on the Ontario government not to move forward with this plan.
"This move will further starve our public healthcare system of funding and divert front-line staff to enrich private shareholders and diminish access to publicly-delivered healthcare. Patients will wait even longer for healthcare under this scheme and should not be misled into believing they will not pay out of pocket," the unions said in a joint statement issued by the ONA.
Unions expanded on these concerns.
"History shows that for-profit clinics siphon staff from public hospitals, focus their business on providing services for patients with the least-complex medical needs to maximize profits, and leave public hospitals to care for patients with multiple, severe – and expensive-to-treat – conditions. Death rates and costs are higher in for-profit surgical centres," they explained.
The Ontario Health Coalition was also swift in their rebuke of this plan, expressing serious concerns that further investment in for-profit surgical and diagnostic centres will result in patients paying out-of-pocket for treatments, despite assurances from the provincial government that such procedures will be publicly funded.
"Already, the existing for-profit clinics in Ontario are charging patients thousands of dollars for surgeries. They routinely upsell medically unneeded services to elderly patients. They pressure and manipulate patients into paying hundreds or thousands of dollars that they should never have to pay in our public health system," said Natalie Mehra, executive director of the Ontario Health Coalition, in a media release issued on Monday.
Concerns that patients will pay out-of-pocket for procedures are not unfounded, as the Ontario Health Coalition and the Globe and Mail found that physician owned clinics routinely bill both patients and the province, despite such practices being illegal.
In the media release announcing the plan, the provincial government explained that procedures funded under this program "will be publicly funded".
Despite these assurances, the Ontario Health Coalition raised the question as to why the province is investing in private clinics when public healthcare resources are underutilized and underfunded.
"Large public hospitals across Ontario have operating rooms that are underused – closed for weeks or months each year, or even permanently– due to lack of funding and staffing. Instead of using existing public capacity and supporting public hospitals, the Ford government underspent on health care by almost $1 billion last year, did very little to address the staffing crisis in our public hospitals, and has done nothing to open public hospital operating rooms to capacity," the Ontario Health Coalition said.
Click here for original article