Ontario health care advocates launch constitutional challenge against controversial Bill 7
Posted: November 22, 2022
(November 21, 2022)
By: Meredith Bond and The Canadian Press, City News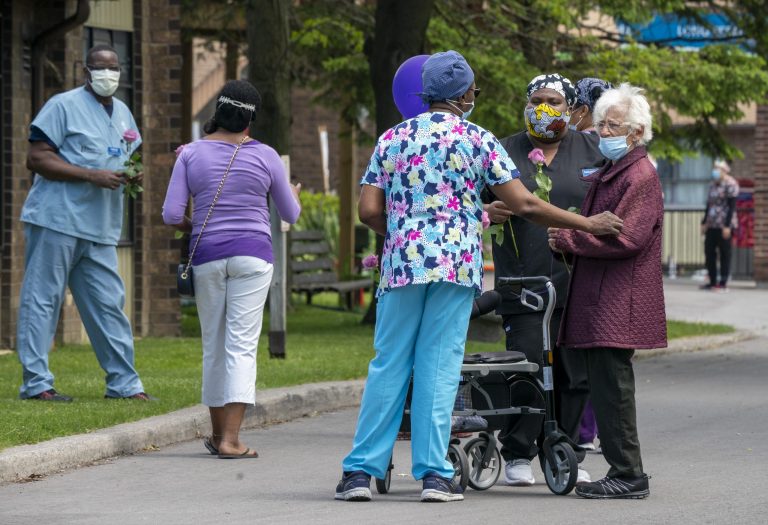 A resident chats with workers at Orchard Villa Long-Term Care in Pickering, Ontario on Monday June 1, 2020. THE CANADIAN PRESS/Frank Gunn
The Ontario Health Coalition has officially launched a constitutional challenge against the province's controversial Bill 7.
The law allows some discharged elderly hospital patients to be forced into long-term care homes they did not choose in Ontario.
The Health Coalition, along with the Advocacy Centre for the Elderly (ACE), will be co-applicants for the Charter Challenge, which seeks a ruling from the Ontario Superior Court of Justice to strike down the law as a violation of the Charter of Rights and Freedoms.
The legislation was originally passed in late August and came into effect Sept. 21, but the full scope of the law was only realized Sunday when one of its most controversial components kicked in.
As of yesterday, hospitals must charge a $400 daily fee on hospital patients who refuse to be moved into a long-term care home that has been chosen for them.
The province has stated the bill is meant to help ease pressures on hospitals that are overwhelmed by emergency visits and surgical backlogs amid the COVID-19 pandemic.
The rules apply to hospital patients deemed by doctors to need an "alternate level of care" who have been placed on a waitlist to get into a long-term care home. The province said there are about 1,800 such patients across the province.
However, healthcare advocates said the law allows hospitals to override patient consent and could see elderly people in Northern regions sent as far as 150 kilometres from their homes.
"Bill 7 represents an unprecedented and egregious deprivation of the Charter rights of many elderly and vulnerable
hospital patients in respect of both their right to life, liberty, and security of the person and to equality," said Steven Shrybman, one of the lawyers for the Health Coalition and ACE on the Charter challenge, in a statement.
Executive Director of the Health Coalition Natalie Mehra says there is currently no way to appeal if patients are forced somewhere they don't want to go.
"There are many other solutions to the hospital crisis, but steamrolling over the fundamental rights of the elderly and the dying is not one of them," Mehra said.
She says Bill 7 allows hospitals or discharge planners to override patient consent to secure a bed.
"The only long-term care homes that would have beds available at all are ones that have terrible reputations for care or are very far away," Mehra said.
She added there are currently 38,000 people on the waitlist for long-term care.
Click here for original article