Ontario Health Coalition gathering input on ways to bring the public health care system back to life
Posted: October 24, 2017
(October 24, 2017)
By: Linda Holmes, Bay Today
'There are gaps in services and funding which lead to less than ideal care for our most vulnerable citizens throughout the province' Wife of Long Term Care resident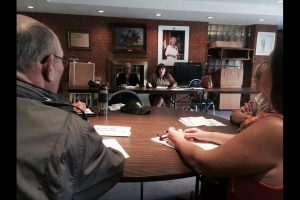 Ann McIntyre spends four to five hours a day with her 70-year-old husband who was admitted to a Long Term Care Facility two years ago. Based on her personal experience, she says it is almost impossible to 'maintain an adequate level of care in spite of the efforts of staff and administration.'
"There are gaps in services and funding, which lead to less than ideal care for our most vulnerable citizens throughout the province," says McIntyre."I feel I must be there to fill in the gaps even though this is sometimes difficult for me. Understandably, staff burnout is an issue."
She says one personal support worker is responsible for getting 10 to 13 residents, up and ready for the day, but is allowed no more than 10 minutes per person.
"Washing, teeth cleaning, dressing, toileting, use of a lift to move residents, some of whom may resist due to dementia or Alzheimer's in that short period of time is impossible," says McIntyre. "Things are missed, done in a rushed, factory-like fashion with little time for the very important part of care; discussion, talking and treatment of the resident as an individual, each with special needs and routines."
The 89-year-old mother of Blanche-Helene Tremblay has spent the past six years in a long-term care facility with advanced dementia. Her father who also suffered from dementia spent the last three years of his life in long-term care in a hospital setting.
"Although my family was grateful to receive a long-term placement for our parents in a relatively short time, we quickly learned that we needed to be proactive if our parents were to live their lives to the fullest," says Tremblay."Over the years, we went from visiting with my parents five or six times a week for an hour or so, to assisting with care seven days a week for nine hours a day or more. My expectations were too high considering how little time was allotted to the care of each resident."
These are just two personal stories shared with representatives of the Ontario Health Coalition during a swing through North Bay, as part of a provincial tour to hear what residents have to say about the current state of public health care.
Natalie Mehra, Executive Director Ontario Health Coalition, says there are many similarities among the stories they are hearing during their stops.
"Unfortunately we're hearing a lot of horror stories.People talked about the inadequacy of long-term care and the loss of beds locally. I think from home care to long-term care, to nursing homes, to hospital care, the issue was sort of the same, that people really have a problem accessing the care that they need. And there needs to be a plan to provide the services that people need, that's put in place and then also that they be better organized and there be better communication with the patients", says Mehra.
"In North Bay, you have had very severe hospital cuts, perhaps among the worst in the province. So it is particularly bad here, but the same types of things are happening in many other communities. We also are hearing from people who in an emergency and get an operation, the quality of the care is excellent, the operation is excellent, it's just the fact the hospitals are overcrowded, there's not enough staff, they have to push people out too fast.."
Mehra says it's not unusual to hear of people left for long periods of time, waiting to be transferred to a room.
"We're hearing from people who have spent days and weeks in inappropriate places; hallways or areas that have been converted to patient wards that really aren't patient areas in hospitals because there are no beds. People here understood what was going on in a deep way. People talked about their loved ones being discharged from hospital too quickly, ending up back in the hospital. People talked about the lack of resources, people leaving hospital without home care, without rehab, not allowed to stay in palliative care when they're dying, in conditions that many people have said, 'How can this happen? This is Canada. This isn't right.' It was clear that this was a betrayal of the morals of our communities and the priorities of our communities."
At the end of the tour, the coalition will compile a report with a list of recommendations to address the 'urgent issues of under capacity, cuts, privatization, and overcrowding.'
"And those recommendations we'll take to all of the political parties before the next provincial election. So we know we have about eight months, and we want to make it a key election issue. We want to ensure that the crisis in our community hospitals is a top of mind issue in the election, that all parties have to make firm commitments on it, and that there's a chance of really holding them to those over the next year so we can solve some of these problems once and for all," explains Mehra
"We haven't decided quite yet whether we'll release the report at the beginning of January or before Christmas. So it depends on how fast we get it written, but within the next couple of months, we'll have it out, and then we'll just work non-stop to make sure that it's well publicized, that we build a big public consensus for these changes and that there's so much pressure that the politicians just can't ignore it."
Click here for original article