Ontario Health Coalition hears from Windsor residents
Posted: October 26, 2017
(October 26, 2017)
By: CTV News Windsor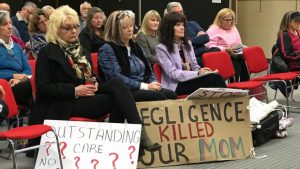 The Ontario Health Coalition is getting ready for the next provincial election.
The coalition is conducting a province-wide tour to hear stories from residents about the current state of public health care, and representatives stopped in Windsor on Wednesday.
Some of the residents who spoke expressed concerns about overcrowding in hospitals, as well as the new mega-hospital planned in Windsor.
"I think what we've heard is yes, there needs to be more funding but that funding needs to go to care" says Natalie Mehra, the executive director of the Ontario Health Coalition.
"We've heard this model of corporate and consultant run hospitals has reduced compassion to the point that it's not acceptable anymore and that compassion needs to be restored" adds Mehra.
But it wasn't all negative. Some residents praised the exceptional care at Windsor hospitals.
The OHC says it will prepare a report for all political parties to make hospital funding a key issue in the next Ontario election.
Click here for original article