Ontario's response to updated national long-term care standards 'pretty reprehensible': Algoma health advocate
Posted: January 31, 2023
(January 31, 2023)
By: Jeffrey Ougler, The Sault Star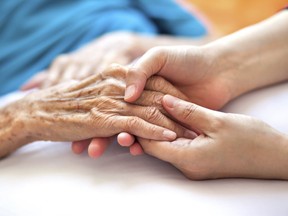 Ontario's response to updated national standards for long-term care is more mocking that mindful, says Ontario Health Coalition's Algoma District representative.
Responding to Long-Term Care Minister Paul Calandra's statement Tuesday that the province will take a look at the new codes but wouldn't want to "water down" what Ontario is already doing to improve care, Al Dupuis said the province appears to be taking a blasé approach to a very serious situation, one Queen's Park has failed to address properly."It's pretty reprehensible, to say the least," Dupuis told the Sault Star Tuesday. "I think this government is pretty cynical about all of this. I think it's an opportunity to see this government's cynicism, more than anything else, with that kind of a response to this."

He cited the devastating situation that played out during the early days of the pandemic as long-term care staff struggled to provide adequate service.
"Quite unbelievable, really. It is a joke. Water what down? There's nothing there," said Dupuis, who retired to Blind River from Ottawa two years ago and has elderly relatives here in local long-term care facilities. "So it's really a joke for (Calandra) to say that we don't want it watering down. I'm sure he goes back to the cabinet table and has a pretty good laugh about that with his ministers."The standards from the panel of experts at the non-profit organization stated residents should get at least four hours of direct care every day, and those who work in residences must be paid more.

Calandra notes that the province has already legislated a goal of an average of four hours of direct care per resident per day by 2025.
"I suspect Ontario will still have the highest standards in Canada … I 'm uninterested in any guideline that would water down the very high standards that Ontario has put in place with the fixing Long Term Care Act," the minister said.Dupuis doubts that.

Ontario Health Coalition has been skeptical since Day 1 of the Ford government's 2021 promise of a minimum care standard, increased fines and inspections within LTC homes. The first incremental improvement in care was supposed to happen by March 31, 2022 and, at that point, the target was to have care levels increase by 15 minutes from 2.75 hours of care per resident per day to three hours of care per resident per day, OHC said.

Staffing data the coalition gleaned from 23 homes in Ontario show that in those residences, care levels ranged from 2.25 hours of care per resident per day to a max of 3.34 hours.
Out of the 23 homes, more than a third had care levels below 2.75 hours per resident per day. Seventeen of the 23 homes had care levels below three hours per resident per day and only six of the homes had met the target of three hours of care per resident per day."The data we were able to get (are) disturbing," OHC executive director Natalie Mehra said last May. "The evidence holds that a safe level of care for average acuity would be at minimum four hours per resident per day. None of the homes are anywhere near that level."

Experts with the non-profit Health Standards Organization said the new codes will only be useful if the government puts them into practice and makes sure they are followed. The authors say the ball is now in the government's court.
Dupuis agrees."It's OK to have standards, but they need to be enforceable standards," he said. "That would be my concern."

Long-term care as a health service falls under provincial jurisdiction, and there is a patchwork of rules across the country that govern how homes should be designed, operated and maintained.

"Whatever standards they adopt, they do need to be enforceable," Dupuis said. "And the very laughable answer that came from (Calandra) was that he didn't want these standards to be 'watering down' anything that (the province) did. That would be like adding water to the sea."