Ottawa mayor says Ford agreed in meeting to not cut long-term care home funding
Posted: October 8, 2019
(August 20, 2019)
By: Victoria Gibson, iPolitics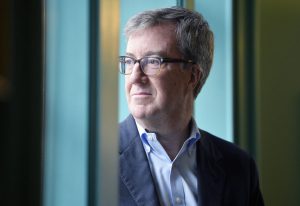 Ottawa Mayor Jim Watson poses for a photo in his office in Ottawa on Tuesday, October 31, 2017. iPolitics/Matthew Usherwood
A private meeting between Ontario Premier Doug Ford and Ottawa Mayor Jim Watson resulted in the premier agreeing that cuts should not be made to long-term care homes, Watson revealed to iPolitics.
"We were going to lose about $800,000 from the province for the four long-term care homes that we run," Watson said in an interview about the meeting — one of hundreds of liaisons between municipal and provincial representatives taking place this week at the Association of Municipalities of Ontario conference.
Watson claims that Ford agreed with his view about cuts in a conversation about the vulnerability of seniors in long-term care.
"I'm hoping his comments — that he didn't think they should be cutting long-term care — follow through with a formal statement," Watson said.
The Ontario Health Coalition raised alarms about cuts to long-term care last month, saying that the per diem rate had been increased by one per cent, which didn't meet the rate of inflation, and that special transition funds — impacting municipally-owned long-term care homes especially — had been cut.
"Some municipalities will lose hundreds of thousands of dollars in funding per year," the coalition warned in a public statement. 
Ivana Yelich, a spokesperson for Ford, responded to an inquiry about the Premier's alleged comments by saying she wasn't privy to that specific discussion. However, she noted in an email that the Ontario government was putting $72 million more into the long-term care system compared to last year, and that Long-Term Care Minister Merrilee Fullerton committing in late July to new funding for the long-term care sector. 
Overall, Watson expressed concern to iPolitics about the "lack of information" municipal leaders were working with around cuts and reductions. News emerged on Monday morning about changes to provincial funding for public health and child care, and while Ontario has pledged transitional funding to help municipalities adjust, Watson and others are still waiting for precise numbers. Premier Ford gave a speech at the conference after the news broke, but it did not reveal all the details.
"They said they're going to be sending letters out. The sooner we get the letters with the specific numbers for each municipality, the better we're going to be to start our budget process," Watson said.
Questions yet unanswered include how much money each municipality will receive, and how long the funding will last. "A more efficient system would have been to have each municipality's letter available after the Premier's speech — to say alright, here's what we're talking about. Here are the numbers."
Cam Guthrie, who serves as both Mayor of Guelph and chair of the Large Urban Mayors' Caucus of Ontario, said he knew what he was "getting into" when walking into the closed-door meetings with Ministers and provincial staff during the conference. "It's really an ask of either one or two priorities for the city, and we know that we aren't going to get an answer immediately across the table," he said." "But you can tell that they're asking the right questions, they're poking and prodding and going deeper to understand." 
He said he'd been reassured that his concerns would be followed up on by the province. "Based on last year, whenever I heard any Ministers or staff say they were going to follow up, they always did," he noted. 
Kingston Mayor Bryan Paterson lauded Ontario's Municipal Affairs and Housing Minister Steve Clark in particular, saying he was "good to work with" during the closed-door sessions in Ottawa. "Ultimately I think what encourages us is they're listening and we have a chance to express our concerns. We're certainly hoping that the concerns we're bringing forward now and the questions we're bringing forward are then reflected in the final policy changes that are brought down," he said in an interview. 
"I think what surprised me is initially there was a lack of clarity about what exactly was being rolled out … that to me is always the key, understanding the details. Certainly I think there's more work to be done on that."