Oxford Health Coalition Joins Thousands of Protesters at Queens Park Today
Posted: April 30, 2019
Tuesday, April 30th, 2019 12:42pm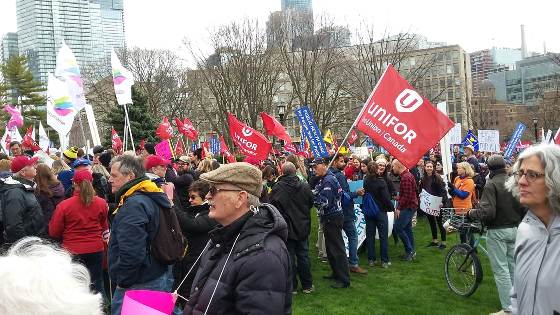 photo credit Bryan Smith
Well over 10,000 people, including a couple of dozen from Oxford are protesting cuts to health care outside of Queens Park in Toronto today.
TORONTO – Thousands of people have flooded Queen's Park today to protest Provincial cuts to Health Care.
The protest was organized by the Ontario Health Coalition. Over 20 members of the Oxford branch from Woodstock and Ingersoll are in attendance today. They joined a group of buses from London to get to Toronto.
Chair of the Oxford Health Coalition Bryan Smith says this is all about health care in Ontario.
"It's about people coming to express solidarity with people working in health care and people who are patients in health care and for people who resisting the cuts to the kind of services we deserve and expect."
Smith says based on the amount of busses, he estimates that over 12,000 people have gathered on the lawn at Queens Park today.
"People have signs that say hands off health care, health cuts are foolish, people are quite concerned about cuts to services with children living with autism. We have people saying that public health care is a public trust and therefore can't be decided on the whim of a Government that didn't actually campaign on it. We have people who are saying that it should be patients before profits because there is a huge concern that the Super Agency being set up by the Ford Government is opening the door to the privatization of hospitals and other services that are currently in the public domain."
Smith says it is amazing to see so many different people in attendance today. They range in age from young kids, to seniors who all agree that the plan in Bill 74 is not the right plan."