Pre-election hospital bed funding 'cynical': OHC
Posted: October 30, 2017
(October 28, 2017)
By: Antonella Artuso, Toronto Sun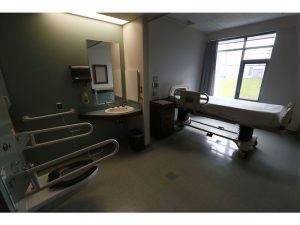 The Kathleen Wynne government's announcement of funding for more hospital beds won't come close to solving the "cruel" shortage across the province, the Ontario Health Coalition (OHC) says.
OHC Executive Director Natalie Mehra said Ontario remains dead last among provinces in the number of hospital beds and nurses per patient.
The announcement by Health Minister Dr. Eric Hoskins this week that it will fund 1,235 more hospital beds doesn't change the province's overall poor standing, she said.
"We're in such dire crisis across the province," Mehra said. "While I want to say it's good, unfortunately it's very little in the scheme of things… it's not enough to meet the overflow beds that are in use right now, the beds that are untended in hospitals across the province, the people on stretchers in hallways and in the ends of hallways… and the people waiting in ambulances to be off loaded."
At this point, the funding for the beds is temporary and hospital workers and supporters rallied in Ottawa Friday to call for that money to stay put within the system.
Laura Gallant, a spokesperson for Hoskins, said in an e-mail that because this money comes in addition to what had already been budgeted for hospitals this year.
Hoskins will have discussions with the Ministers of Finance and Treasury Board about keeping the funding going into the future, she said.
"We absolutely recognize an increasing demand on our hospitals as a result of both a growing but also an aging population," Gallant said.
Mehra said the government is bumping up hospital funding in 2018, she doesn't expect those funds to long past the next provincial election in June.
"They have, I think, in a very cynical move planned to increase funding just for the year leading into the election and then decrease it again the year after," Mehra said. "Every year we've just fallen further and further and further behind. I can't overstate the extent to which we're an extreme outlier.
Linda Haslam-Stroud, president of the Ontario Nurses Association (ONA), said she believes the provincial government was motivated by the upcoming flu season which is bound to put enormous pressure on an already over-capacity system.
The funds will help some patients who otherwise find themselves parked in hospital hallways, but it won't address all the challenges in health care.
"This is really a first step," she said. "It doesn't really address and talk about how we're going to be able to staff those beds.
"A bed is just a bed – what we need is the appropriate nursing staff allocated to the bed so that our patients can get the appropriate care," Haslam-Stroud said.
Ontario has the lowest number of registered nurses per capita of any province in Canada, she said.
Hoskins committed to $140 million in additional funding forn hospital beds and enhanced home care.
The government is "reopening" 150 beds at the Humber River Hospital's Jane-Finch site – a hospital site this government closed in a high-needs area – and 75 beds at the former Hillcrest site of the University Health Network for patients "transitioning"out of hospital.
These spots tend to be for seniors that are not in need of an acute care hospital bed but are not able or ready to go home or to a long-term care facility.
aartuso@postmedia.com
Click here for original article