Protesters fight for more Long Term Care Home support
Posted: October 5, 2021
(October 4, 2021)
By: Chris Dawson, Bay Today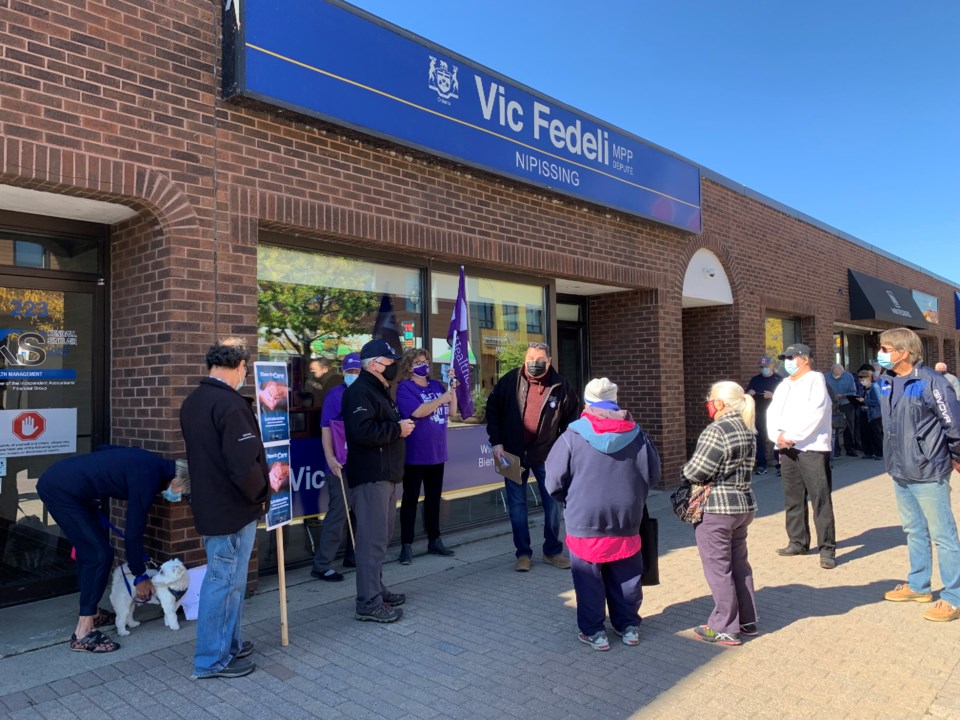 A small group of about a dozen protesters gathered outside Vic Fedeli's constituency office to express their concern over long-term care in Ontario.
Henri Giroux, president of the North Bay & District Labour Council, led the North Bay event, which is one of a number of organized protests through the Ontario Health Coalition, which took place at noon on Monday across the province to coincide with the return of MPP's to Queen's Park.
"The province has a lot more work to do," said Giroux.
On the local front, the keys seem to be workload and staffing.
"Even without COVID-19 one of the biggest problems locally in Long Term Care Homes is staffing," he said.
"People are tired and they need more staff to work. That is what we have been pushing since 2003 to get four hours of care per resident. The government is saying they will have it by 2025, we can't wait until 2025 we need it now.
"When we have the workers stressed out of their mind because of COVID-19; it has been almost two years now and they have worked all their shifts and done all they needed to do and they still are not getting appreciated for it," continued Giroux.
Giroux and the Coalition say their demands are clear and they will not accept any more empty words and broken promises.
They are asking for the following measures:
Immediate action to fast-track increases in care levels and staffing to meet residents' care needs;
Enforcement of care standards through reinstatement of annual surprise inspections, and real accountability through fines, loss of license for repeated non-compliance. Repeal the Act shielding LTC operators from lawsuits for negligence;
·End for-profit LTC, and;
·Ensure the human rights of LTC residents are upheld, including an end to unlawful detention, isolation and ensure full access to caregivers and families.
"The privates have actually made money during COVID-19 and paid money to their stakeholders and not taken care of their own staff because there was no PPE, there was no shield or gown and is why we had some many people that died," Giroux said bluntly.
"In this area, we were lucky that we did not see much of that in the homes in this area because we have a lot of public homes but across Ontario and Canada we have seen how bad it was."
Click here for original article