Protesters rally in Windsor to 'protect public hospitals'
Posted: December 11, 2022
(December 12, 2022)
By: Trevor Wilhelm, Windsor Star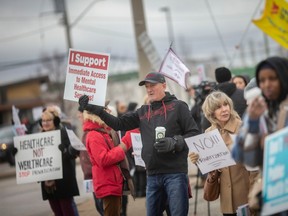 Dozens of protesters rally for better health care at the intersection of Walker Road and Tecumseh Road East, on Monday, Dec. 12, 2022. PHOTO BY DAX MELMER /Windsor Star
Dozens of protesters held a rally outside a Windsor hospital Monday calling on the provincial government to fix a "crisis" in Ontario's health care system that has led to understaffing, cancelled surgeries, long wait lists, and bed shortages.
"We want to bring attention to what's happening with our health care system, especially with the hospital," said Unifor Local 2458 president Tullio DiPonti, who represents about 4,200 health care workers. "We're hearing all over Ontario, pretty well over Canada, about the crisis we're in.

"The crisis began with the government never, ever thinking we'd get to this point. They let it go to the point where now we're in such a crisis they have to do something about it."

Protesters staged the rally Monday afternoon at the corner of Walker Road and Tecumseh Road East, near Windsor Regional Hospital's Met campus. Passing drivers honked horns as protesters waved signs and organizers made speeches.

The event, organized by the Ontario Health Coalition, also included members of Unifor, the Ontario Nurses' Association, and other concerned citizens. The health coalition is staging similar demonstrations and town hall meetings in other parts of the province.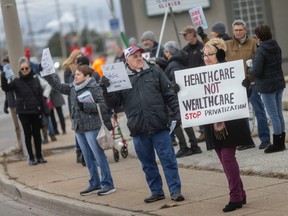 PHOTO BY DAX MELMER

 /

Windsor Star
"Our public hospitals are in an unprecedented crisis," the coalition said. "The Ford government has done substantially nothing to help them. Instead they have funnelled millions into for-profit corporations to privatize our public hospital services.
"Almost 100 emergency departments have had closures across Ontario. If the Ford government continues to ignore and downplay the staffing crisis — and use the crisis as an excuse to privatize — our community hospitals are at grave risk."
DiPonti said Bill 124 has been a major factor leading to staffing shortages, which have resulted in other issues in the health care system.
The legislation, passed in 2019, capped annual pay increases for public sector workers at one per cent. A Superior Court judge shot down the legislation as unconstitutional last month, but the government said it intends to appeal.
"Bill 124 obviously played a big role with the hospital, when you're limited to one-per-cent increases," said DiPonti. "Our members were in the midst of the fire, the midst of the pandemic. They were coming to work doing the best they could.
"They thought this government was going to show them some support. Part of the support is getting a decent wage, and it hasn't happened."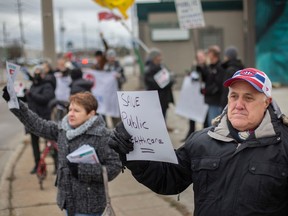 Dozens of protesters rally for better healthcare at the intersection of Walker Road and Tecumseh Road East, on Monday, Dec. 12, 2022. PHOTO BY DAX MELMER /Windsor Star
Click here for original article