Province promises to follow through on recommendations from Wettlaufer inquiry
Posted: October 8, 2019
(August 1, 2019)
By: Paul Pedro, Blackburn News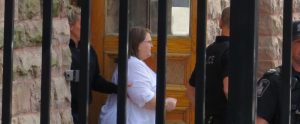 The Ontario government is promising to take immediate action to improve the long-term health care system, following the results of a public inquiry into how serial killer Elizabeth Wettlaufer was able to murder eight nursing home residents in her care.
A total of 91 recommendations were made in the four-volume final report following the public inquiry, which aims to prevent similar crimes and improve safety in Ontario's long-term care homes in the wake of Wettlaufer's crimes.
The new Minister of Long-Term Care Dr Merrilee Fullerton, said she is taking steps to support safety, and the well-being of the most vulnerable in those homes.
"I take Justice Gillese's recommendations very seriously, and together with the Attorney General, the Minister of Health, the Solicitor General, and the full support of the government, we will be comprehensively reviewing the recommendations over the coming weeks to determine next steps," said Fullerton. "Today, as recommended by Justice Gillese, we are committing to submit a report to the Ontario Legislature by July 31, 2020 on progress made on the report's recommendations, as well as continued updates leading up to the submission."
The minister promised new funding to help address the recommendations, and will consult with the long-term care sub-committee of the Premier's Council on Improving Healthcare and Ending Hallway Medicine on policies.
One of those recommendations is to provide counselling services to the victims, and the victims' families and loved ones.
The Registered Nurses Association of Ontario (RNAO) said it is pleased an overhaul of the long-term care sector will take place. The RNAO said increasing the number of registered nursing staff in long-term homes is a key recommendation.
"We have long urged that regulated staff must be increased in long-term care. RNAO will continue to insist that at least one NP for every 120 residents, 20 per cent RNs, 25 per cent RPNs, and no more than 55 per cent PSWs be funded for nursing homes," said RNAO CEO Dr Doris Grinspun in a statement. "This is essential if we want to ensure safe and quality care, and reduce costs related to avoidable complications."
The RNAO said it is also pleased to see a recommendation to encourage, recognize, and financially reward long-term care (LTC) homes that have improved in the wellness and quality of life of their residents. The Ontario government currently cuts funding to long-term care facilities that implement best practices that improve residents' outcomes.
"The RNAO has repeatedly advised, LTC homes whose care improves the health of residents must retain all funding to reinvest in additional staffing for residents rather than have some of that funding stripped because the government wrongly tethers funding to acuity," said Angela Cooper Brathwaite, RNAO's president. "We are urging Minister Fullerton to exempt Best Practice Spotlight Organizations (BPSO) from any clawbacks on funding resulting from their improved residents' health outcomes."
The Ontario Health Coalition (OHC) applauded the inquiry for highlighting the need for improved staffing levels, but said it fell short on the urgently needed improvement in daily hands-on care at long-term care facilities. The OHC said it wants a minimum average of four hours per resident per day.
The NDP said it also wants Ontario to increase funding and staffing, and stop relying on temp agencies at long-term care homes.
"It's clear that we owe our parents and grandparents in care better than [what] they're getting today," said Long-Term Care Critic Teresa Armstrong.