Strong union turnout for health-care rally
Posted: November 5, 2019
(November 5, 2019)
By: Bruce Corcoran, Chatham Voice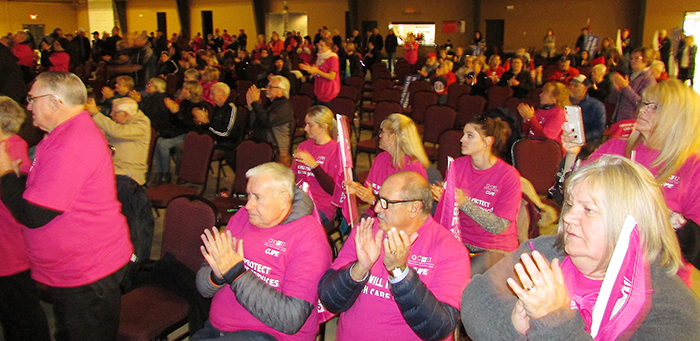 Provincial health-care advocates addressed a crowd of several hundred people Saturday in Chatham, sending a message to Queen's Park that any cuts to the delivery of health-care services will be strongly opposed.
Put on by the Ontario Health Coalition (OHC) and the Chatham-Kent Health Coalition, the rally, held at the John D. Bradley Convention Centre, featured a strong showing by area labour groups, but also had scores of seats sit empty.
The areas of contention are possible reductions in the number of public health units, ambulance services and ambulance dispatch operations. OHC executive director Natalie Mehra said the province is looking at reducing the number of public health units in the province to 10, from 35; EMS services to 10 from 49, and the number of ambulance dispatch centres to 10 from 22.
She sees it as a reduction in vital health services to Ontario's citizens.
"This rally was to bring deep concerns about very significant health-care cuts and changes to services," she said. "It means cuts; it means you lose local services. This would eliminate local governance and local bodies."
Mehra also took aim at recent funding announcements for hospitals, where the provincial government boosted budgets to large hospitals by one per cent and medium hospitals, such as the Chatham-Kent Health Alliance, by 1.5 per cent.
"The hospital budget raises are less than inflation. And for long-term care facilities, their increases were less than half the rate of inflation," she said. "We are here to send a strong message to Queen's Park: We want you to stop the cuts. We want you to stop the elimination of local health services. We need more health services, not less."
Local MPP Rick Nicholls, a member of the Doug Ford government, said front-line health services aren't being trimmed.
"I want to be clear with all of my constituents that there are no 'cuts' taking place in terms of front-line care being delivered," he said in a media release. "This year has seen a two-per-cent increase to the health budget, including an additional $384 million to hospitals, an average four-per-cent increase for land ambulances, and a $10-billion program for mental health over the next 10 years."
But at the rally, speakers begged to differ.
Mehra said Ontario has 2.24 hospital beds per 1,000 people, which is the lowest in the nation, and she challenged the government to do better.
"Let's tell the Doug Ford government it's time to expand and improve our hospitals," she said.
Ken Lewenza Sr., former head of the CAW, and an active labour supporter in Windsor, also spoke passionately at the rally.
"Everybody in this room cares about health care. All of us have been fighting in our lifetimes to preserve public funding for health care," he said. "No government has dealt with the idea of dealing with an aging population in a consistent manner. I believe I'm a human rights activist, and health care is a human rights issue!"
Lewenza said he frequently visits retired CAW (now Unifor) members in hospital and in long-term care facilities, and is dismayed at the workload staff are under.
"I see the workforce in each and every class being stretched to the limit," he said. "Enough is enough."
The rally is the first of four such events planned in different regions across the province by the OHC to send the message to the provincial government, Mehra said. Others will take place in Ottawa, Toronto and Sault Ste. Marie.
In October, Mehra said she hoped the events would be "stadium filling." Lewenza addressed the vacant seats on Saturday.
"You came here hoping thousands of people would be here to help send the message. But the reality is you are the advocates and have been for years," he said to a large collection of CUPE and Unifor members present.
Meanwhile, the province said Deputy Premier of Ontario and Minister of Health Christine Elliot has begun the next round of discussions with public health, emergency health and municipal stakeholders.
Modernizing the operation of public health units has been central to the Ontario Government's ongoing health reforms, officials said in a media release.
They added the Ministry is acting on advice of the Auditor General of Ontario.
A 2017 report by the Auditor General, officials said, indicated that public health units are poorly co-ordinated and duplicating work, while not delivering consistent service.