Sudburians protest against health-care privatization
Posted: February 12, 2023
(February 12, 2023)
By: Tyler Clarke, Sudbury.com
A small group of protesters gathered outside of Sudbury NDP MPP Jamie West's office on Saturday to join the politician in protesting against the province's privatization of health-care services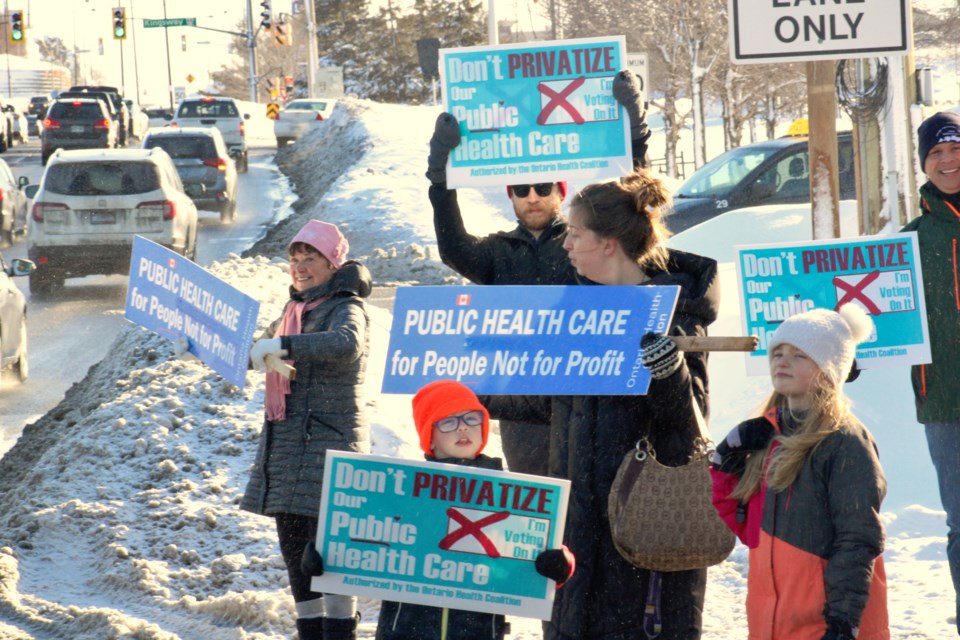 Several people gathered on Saturday for the latest in a series of protests against what they fear as being a push toward a two-tiered privatized health-care system.
"The general public is not really aware of the threat that is going on, and that's why we're rallying," said Dot Klein, co-chair of the Sudbury chapter of the Ontario Health Coalition.
The province's health-care system, she added, is "It is not for sale."
Earlier this year, the province announced that for-profit private medical clinics will be allowed to perform routine surgeries at no extra cost or charge for patients. The list of surgeries includes cataract surgeries, as well as knee and hip joint replacements.
"And we need to be clear; Ontarians will always access the health care they need with their OHIP card, not their credit card," Health Minister Sylvia Jones said at the time, noting the effort is intended to reduce wait times.
The move sparked an immediate backlash from critics who said it "opens the door" to Ontario providing more private and for-profit medical services which could lead to a system of prioritized health care for the rich, at the expense of the poor.
Health critic and Nickel Belt MPP France Gélinas was quoted by the CBC at the time as lamenting the opportunity the government's move opens for private clinics to up-sell patients.
Sudbury NDP MPP Jamie West echoed this sentiment during Saturday's rally, at which he argued against an "American-style model," and said Premier Doug Ford's recent push is for "profits for shareholders instead of front-line staff."
"There's only so many health-care professionals out there, so opening more for-profit private clinics isn't going to improve health care," he said.
Ford has been under-funding health care and creating a crisis, "So he can pitch to people that his wealthy well-connected friends can solve it through privatized health care," West said.
"He could be funding the public option that's already here."
Sudbury and District Labour Council president D'Arcy Gauthier said what the Progressive Conservatives are doing isn't new.
"They defund a program, create a crisis, and privatize the service," he summarized, adding the long-term goal is a two-tiered health-care system.
"Those who have the means to afford quality care are going to get it first, and that's not right," he said, adding that although Ford has said that isn't the province's plan, he does not believe him.
West said that more protests are being planned because not enough people are aware of what the government is doing. The Ford government introduced the for-profit clinic plan while the house was raised, which prevented it from receiving the Queen's Park scrutiny it would have otherwise received.
Politicians will return to Toronto after Family Day.
The Ontario Health Coalition last cautioned Ontarians about an alleged Progressive Conservative government plan to ramp up health-care privatization during the lead-up to last year's provincial election.
Click here for original article