Thunder Bay MPPs speak out on Southbridge Roseview situation
Posted: January 7, 2021
(January 6, 2021)
By: Gary Rinne, TBNewsWatch
Michael Gravelle and Judith Monteith-Farrell cite pandemic preparedness and communications issues.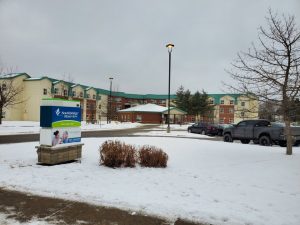 THUNDER BAY — Thunder Bay's two MPPs say they received "heartbreaking" pleas for help from the families of residents of the Southbridge Roseview long-term care home, where COVID-19 has claimed 20 lives to date.
Thunder Bay-Superior North Liberal MPP Michael Gravelle said he's heard "a tremendous amount of concern" about the coronavirus outbreak at the Shuniah Street facility.
Many of the callers, he said, worried about staffing levels in the home.
"Now, Southbridge Roseview insists they now have full staffing in place…but certainly that was not the case at the beginning of the pandemic, and was a real issue."
Gravelle said constituents were concerned their loved ones weren't getting the care they should have received,
"I'm not the expert on that so I can't speak to that directly but I think it needs to be investigated," he said, adding that he believes Roseview is also among long-term-care facilities across Ontario that didn't have adequate personal protective equipment in place at the beginning of the pandemic in March.
"There are a number of things which I think need to be done to change the reality of long-term care in the province, and that certainly includes Southbridge Roseview."
Gravelle said he has expressed his concerns to the minister of long-term care, the minister of health, and the Thunder Bay District Health Unit.
Judith Monteith-Farrell, the New Democrat MPP for Thunder Bay-Atikokan, said it's been difficult to hear what some families have experienced.
"The stories are heartbreaking, because it just reconfirmed what we knew already, that long-term care was in trouble. What's so frustrating is that we didn't prepare properly over the summer for the second wave, and we're just seeing a repeat of horrendous conditions."
Monteith-Farrell also cited numerous reports of a lack of communication with family members who haven't been allowed to visit their loved ones.
"When they're trying to reach out, 'the runaround' is the best way I can describe what people are describing to me. Even when a person passes, there's no explanation to the people about what their last hours looked like…just a total lack of communication," she alleged.
The MPP acknowledged that Southbridge faced challenges with staffing when Roseview staff started testing positive for COVID-19, and that management "very quickly tried, and did, bring in extra workers, tried to get boots on the ground."
She added however, that "that was a slow process, and we saw that more infections happened, there was wider spread, and we were not assured that the people who were ill were getting the proper care."
Monteith-Farrell said "the numbers [of COVID-19 cases] are lower now, and so I think that has helped, obviously, but we are seeing sort of cracks in infection control because we continue to see cases."
On Wednesday, Southbridge reported the death of a 20th resident since the outbreak was declared.
The 157-bed Roseview facility still had 13 active COVID-19 cases, including seven residents and six staff members.
Although there were only five staff among the unresolved cases the day before, the infection rate in the home generally has been declining steadily.
At one point last month, the daily active case count reached 73, including 47 residents and 26 staff.
Southbridge Care Homes responds
In a statement submitted to TBNewswatch, the company said it has tried hard to maintain direct communications with families, "and each resident and family may have had different experiences."
"When you care for people you form attachments. And we understand the grief and frustration that families are feeling. Our hearts and thoughts are with those who are grieving," the statement said.
It added that Southbridge Roseview has had "superior medical oversight" compared with other homes in Ontario, with two nurse practitioners and two doctors onsite full-time, one per home area.
The company said management has also overstaffed with registered nurses and registered nurse practitioners, "and there is dietitian coverage."
In a recent update provided to families, Southbridge said it has hired a new epidemiologist who is on-site at Roseview.
Among his tasks, Dr. Fred Andayi will analyse potential infection transmission pathways and recommend strategies for infection control.
The company has also hired a new infection prevention and control (IPAC) specialist who will be in the home at least three times a week, and an independent IPAC consultant who is providing intensive training to staff.
Earlier this week, it was revealed that a worker who had tested positive for COVID-19 inadvertently worked two shifts at Roseview after the diagnosis was made.
Monteith-Farrell said she's been in contact with Southbridge management, and has been kept apprised of developments.
"I think as a community we are caring," she said. "My heart goes out to family members. I am trying my best to ensure they get all the support they need."
She said an independent inquiry is needed into long-term care all across Ontario, adding "It's not to lay blame. We need to learn lessons."
Last weekend, the Ontario Health Coalition and the Canadian Union of Public Employees called for military intervention to deal with COVID-19 outbreaks in long-term care homes across the province.
The most serious outbreak is at the Tendercare Living Centre in Toronto, where 64 residents have died.
Click here for original article