EVENT: Day of Action on Long-Term Care
Posted: October 5, 2020
Updated as of October 5.  PDF version can be found at the bottom of this post.
Ontario Health Coalition UPDATED LIST BELOW
Day of Action on Long-Term Care
Thursday October 8
9:30 Queen's Park & 11:00 Across Ontario**
** In keeping with the Toronto Chief Medical Officer of Health's call this week to limit non-essential trips out of the home, the Toronto press conference will be live-streamed to Facebook and the video will be posted on our Facebook and Youtube. This may happen in other towns also as public health directives are changing and we will continually update our website and Facebook to reflect changes.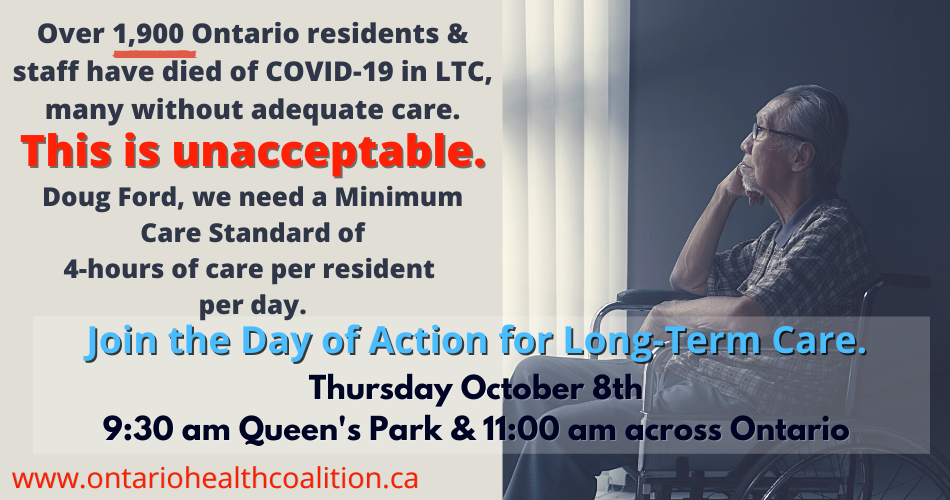 We are calling for:
Immediate action by the Ford government to recruit & train staff, improve pay and working conditions and provide full-time work. Quebec's and BC's governments have already done this. There is no excuse for further delay. The conditions of work are the conditions of care.
The Ford government to implement a minimum care standard of 4-hours of hands-on care per resident per day.
Both our federal and provincial governments to end for-profit long-term care, starting by making Revera public.
The funding and staffing announcements last week so far increase the money but the announced staffing is far less than needed and strings are not attached to ensure that care levels are actually increased. There is no clear recruitment plan and the updated visitor policy does nothing to stabilize the workforce or increase the care per resident. What we are calling for has not changed, and is needed now more than ever before.
Join the Day of Action to create political pressure to expose the lack of action to improve care in long-term care and to push for an end to for-profit privatization of long-term care.
UPDATED LIST OF EVENTS, PLEASE JOIN IN:
Current Public Health guidelines forbid groups of more than 25 outside across Ontario. In accordance with these rules, we will hold press conferences and car motorcades. Please call the numbers below or email if you can join in, and please join in with as many friends as you can. We will ask most people to be in their cars, you can make the protest visual by affixing signs and decorating your car (safely) with messages about the need to improve long-term care and make it public. Please do call your local coalition and confirm you are coming out. More events are being organized every day. We will send out updates and will post them to our webpage and Facebook.
Almonte
*NEW*
Almonte Old Town Hall, 14 Bridge St
Chatham
Outside Conservative MPP Rick Nicholls office, 111 Heritage Road
Dryden
*LOCATION HAS BEEN CHANGED*
In front of government building at 479 Government Road
Durham
Whitby, Conservative MPP Lorne Coe's office 114 Dundas St. E. (cars line up on Perry St. for motorcade)
Guelph
Outside Norfolk Manor, 128 Norfolk St.
Hamilton
Gore Park, King and James St.
Haliburton
*NEW*
Drive in protest in Head Lake Park, in the parking lot across from across from Baked and Battered
Kawartha Lakes
*Location details updated*
Kawartha's car cavalcade will assemble at Rexall, Lindsay Square Mall.
The press conference is at Lindsay, Victoria Park Lindsay, 190 Kent St. W.
Kingston
Demonstration starts at 12:00 p.m. (noon), and the press conference starts at 3pm.
Kingston, Concession St & Princess St. ("traffic circle")
Kitchener/Waterloo
Outside Conservative MPP Amy Fee's office, 4281 King St. E.
London
St. Thomas, outside Conservative MPP Jeff Yurek's office, 750 Talbot St.
Newmarket
*NEW*
Outside Conservative MPP and Minister of Health Christine Elliot's office, 16635 Yonge St. St., press conference starts 12:30
Niagara
Outside Sam Oosterhoff's office, 4961 King St. in Beamsville
Oakville
Outside Conservative MPP Stephen Crawford's office, 74 Rebecca St.
Ottawa
*IN-PERSON EVENTS CANCELLED, PRESS CONFERENCE IS ONLINE VIA ZOOM*
Email to receive link, which will be sent out later this week.
Oxford
Woodstock, outside Conservative MPP Hardeman's office, 12 Perry St.
Peel
Brampton, outside Conservative MPP Amarjot Sandhu's office, 10 Gilligan Drive
Peterborough
Outside Conservative MPP Dave Smith's office, 1123 Water St.
Sault Ste. Marie
Outside Conservative MPP Ross Romano, 390 Bay St.
Scarborough
Outside Conservative MPP Raymond Cho's office, 4559 Sheppard Ave E.
Sudbury
Outside Pioneer Manor, 960 Notre Dame Avenue
Thunder Bay
*LOCATION HAS BEEN CHANGED*
Mini Queen's Park, 435 S. James St.
Toronto (Also see Scarborough above.)
Toronto's car cavalcade starts at 9:30 a.m., and the press conference starts at 9:45.
In keeping with the Toronto Chief Medical Officer of Health's call yesterday to limit non essential trips out of the home, the Toronto press conference will be live-streamed to Facebook and the video will be posted on our Facebook and Youtube.
Car cavalcade is outside Queen's Park, Grosvenor St., Wellesley Ave and Queen's Park Circle.
Windsor
Windsor, on the road outside Heron Terrace, 11550 McNorton Street
Background
Almost 2,000 residents and staff have died as a result of COVID-19 in Ontario's long-term care homes in the last 5 1/2 months. Many died isolated, without enough care, without staff time for emotional support. Long-term care staff have had to fight for access to appropriate PPE and have worked in crisis-level staffing shortages that have only become worse during the pandemic. In Canada, we have seen the highest levels of death in long-term care homes in the developed world. We cannot allow this to continue.
Despite repeated promises from Doug Ford, the Ford government has taken no action to deal with emergency staffing shortages and inadequate care levels in long-term care homes. No action has been taken to get care levels up to a safe standard. The majority of deaths in Ontario happened in for-profit long-term care homes yet privatization of new long-term care beds continues.
There has been no action taken by the provincial government to get staffing up to adequate levels. What is happening is appalling. There are now 45 active outbreaks in long-term care homes across Ontario, with more every day. We are asking for people across Ontario to take action.
We will not tolerate empty promises from our provincial government any more.  
Organizing plan:
The OHC is organizing the protest at Queen's Park. Local Health Coalitions will organize protests at local Conservative MPPs' offices or other locations (if there is no Conservative MPP). We will compile a list of locations and send it out with a call for our member groups and affiliates to organize additional actions in their towns if there is not one in process. There will be a press conference at each local event, which will only have the speakers and media present (to minimize the gathering of people, all supporters are asked to join the car cavalcade).
Safety:
All participants who are not in their cars will be required to wear masks at all times and we will not have in-person gatherings outside cars of more than 25 people. All participants will be 2-metres apart. There will be no sharing of microphones (separate microphones for each speaker). There will be no congregate singing or chanting. The Health Coalition supports and will uphold all Public Health Ontario and local Public Health Unit rules regarding infection control (in fact we are asking for better protections in long-term care) and we ask our members to do so also.
We are asking all of our affiliated organizations to please send a strong message with us to our provincial government and endorse this action. We will list all endorsing organizations on the event publicity. Please contact us with your organization's endorsement: 416-441-2502 ohc@sympatico.ca (subject line: DAY OF ACTION).
Organized by the Ontario Health Coalition.
Currently endorsing: Advocacy Centre for the Elderly; ARCH Disability Law Centre; Casselholme Family Council; Canadians Against For-Profit Care and Support Group for the Elderly; Canadian Federation of University Women; Canadian Union of Public Employees; Care Watch Ontario; Clarion Nursing Home Family Council; Common Ground Coalition; Concerned Friends of Ontario Citizens in Care Facilities; Congress of Union Retirees of Canada, Hamilton, Burlington and Oakville Chapter; Copernicus Lodge Family Council; Council of Canadians, Peterborough and Kawarthas Chapter; Family Council Network 4; Family Council of Union Villa; Family Council McGarrell Place, London; Grand Family Council of Greater Sudbury; Haliburton County and Kawartha Lakes Long Term Care Coalition; Health Coalitions across the province; Laborers' International Union of North America 3000; Henley Place Family Council; National Pensioners Federation; Older Women's Network; Ontario Council of Hospital Unions; North Family Council Network; Ontario Nurses' Association; Ontario Federation of Labour; Ontario Secondary School Teachers' Federation; Ontario Society of Senior Citizens' Organizations; OSSTF Active Retired Members Chapter 12 (Toronto); Seniors' Health Advisory Committee of Algoma District; Trillium Family Council; United Food and Commercial Workers 175 & 633; Unifor; United Steelworkers; Villa Colombo Family Council.