EVENT: Giant Rocking Chair Tour 2015
Posted: June 3, 2015
(June 3, 2015)
"Rock in" Ontario's Way to Comfort, Safety and Care
Come out and show your support as we, make time to care!
Join the Ontario Health Coalition, local health coalitions, friends and allies as we tour the province, pushing for improved access to care and improved levels of care in Ontario's long-term care homes. A giant 10-foot tall rocking chair will accompany the tour, symbolizing comfort, safety and compassionate care.
Did you know…?
There have been more than 20,000 patients on wait lists for long-term care home spaces, for more than a decade?
Almost 2/3 of long-term care residents have dementia and almost half have aggressive behaviours?
The most common complaint of families, residents, and staff alike is that there isn't enough care to meet the basic needs of their loved ones and residents safely.
There is a solution!
The Ontario government must set a minimum care staffing standard of 4-hours of hands-on care per day, per resident.
The Ontario government must improve access to care and reduce wait times.
The tour will stop in 24 towns across the province, each involving a special media event. These media events will be approximately 1/2 hour in length, and we want you to be involved!
Tour Updates and Photos:

On behalf of the Ontario Health Coalition, we would like to send a

great

big

thank

you to everyone that supported the 2015 Giant Rocking Chair Tour. To everyone that came out, supported, and made time to care about this tour, it was a success because of you. 
The media coverage across the province was incredible with newspapers, radio stations and TV news reporters covering the events province-wide. In addition, we also had several local MPPs come out in some of the towns to show their support for the campaign. The Ontario provincial government must set a minimum care staffing standard of 4 hours of hands on care per resident per day. 
The push for improved care standards in long-term care facilities across Ontario has been made clear and we will continue to advocate for this goal.
Below are some photos from all 24 stops of the tour. 
Stay tuned for the Ontario Health Coalition's upcoming events, tours, rallies and more via Facebook, Twitter, email and/or the website.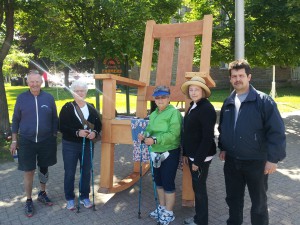 Smiths Falls, ON – June 3, 2015
Arnprior, Ontario – June 3, 2015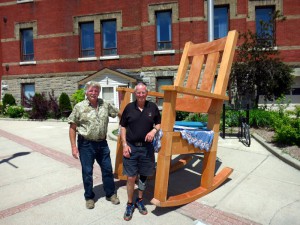 Renfrew, Ontario –  June 3, 2015
Pembroke, Ontario –  June 4, 2015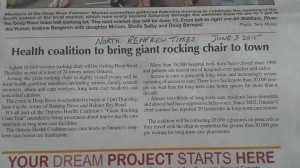 Deep River, Ontario –  June 4, 2015
North Bay, Ontario –  June 5, 2015
Article in Bay Today (North Bay)
Article in The Nugget (North Bay)
Sturgeon Falls, Ontario –  June 5, 2015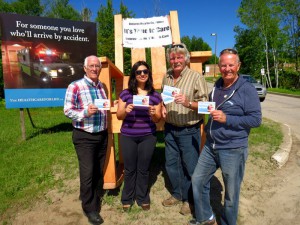 Huntsville, Ontario  – June 6, 2015
Article in Huntsville Forester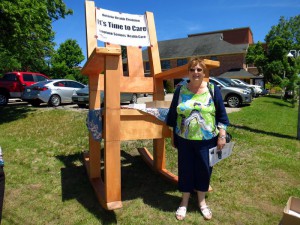 Gravenhurst, Ontario – June 6, 2015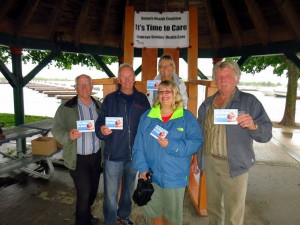 Orillia, Ontario – June 7, 2015
Article in Orillia Packet and Times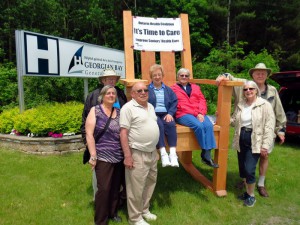 Midland, Ontario – June 7, 2015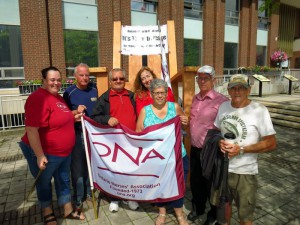 Owen Sound, Ontario – June 9, 2015
Port Elgin, Ontario- June 9, 2015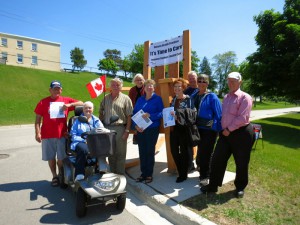 Kincardine, Ontario- June 9, 2015
Sarnia, Ontario- June 10, 2015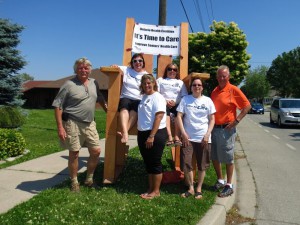 Wallaceburg, Ontario- June 10, 2015
Article for Wallaceburg Courier Press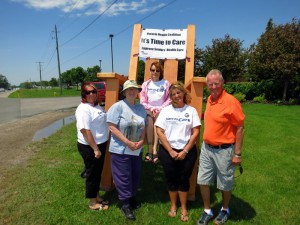 Chatham, Ontario- June 10, 2015
Windsor, Ontario- June 11, 2015
Article for CBC News (Windsor)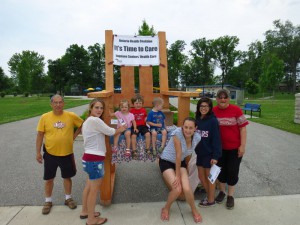 Leamington, Ontario- June 11, 2015
Ingersoll, Ontario- June 12, 2015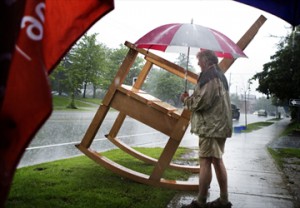 Kitchener/Waterloo, Ontario- June 12, 2015
Article in the Waterloo Region Record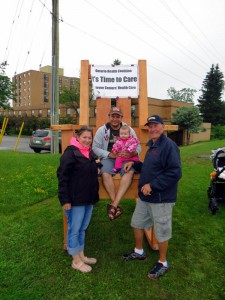 Cambridge, Ontario- June 12, 2015
Port Colborne, Ontario- June 13, 2015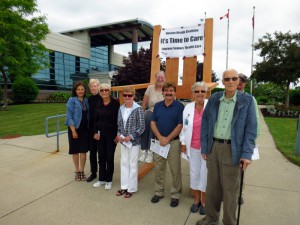 Fort Erie, Ontario- June 13, 2015