CALL TO ACTION: Protect Our Local Health Care from Mega-mergers & Privatization
Posted: February 14, 2019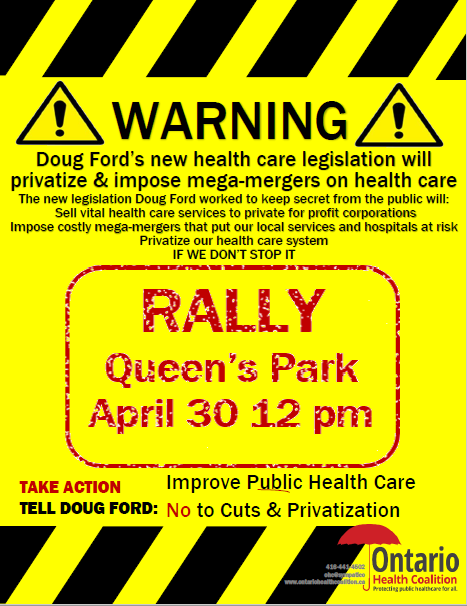 Click here for April 30 Rally Poster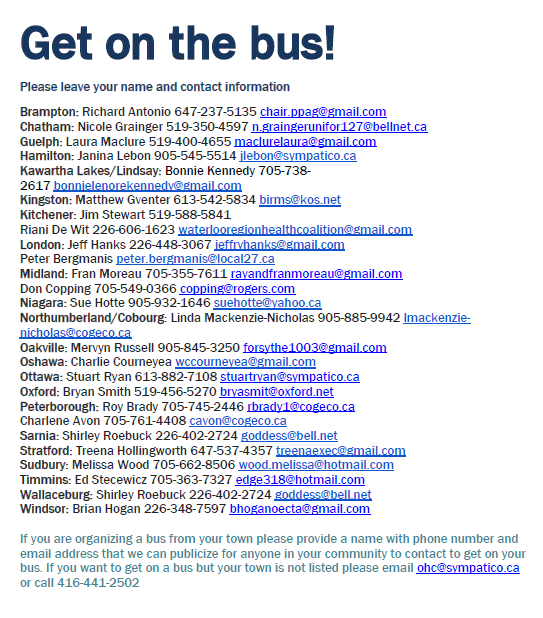 CLICK HERE  Get on the bus list
CLICK HERE for Town Hall Meetings 
CLICK HERE  to send Doug Ford and your local MPP a message that you do NOT support the leaked omnibus health care bill and the creation of a "Super Agency".
Briefing Note: Doug Ford's Omnibus Health Bill (Bill 74)
Please take action to safeguard public health care, stop privatization and stop the massive undemocratic health care bill. Resources and action items are here.
Ontario PC Government to Announce sweeping healthcare reform Tuesday (February 26) – Global News, February 25
Ford Gov't Poised to Take Major Step in Creating Health Super Agency this Week – CTV News, February 19
RELEASE: Warning that Leaked Health Care Omnibus Bill Would Create Health Care Chaos: Longstanding Leaders of Organizations Representing Patients, Care Workers, Doctors – February 11, 2019
RELEASE: Leaked Draft Health Care Legislation a "Gargantuan Nightmare Scenario": Community and Labour Groups Join Forces for Major Fightback – February 1, 2019
BLOG: Leaked omnibus health bill goes far beyond merging the LHINs – February 1, 2019